Sunday, November 12th, 2017

Posted by Jim Thacker
Discover how Marvel Studios designed Thor: Ragnarok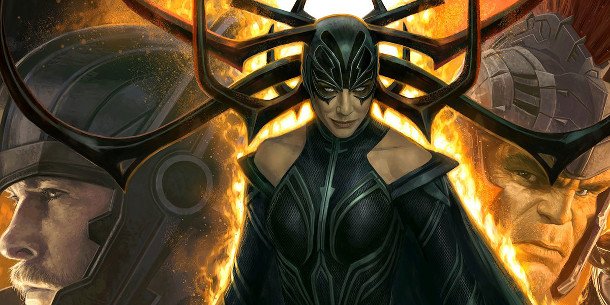 Many movie franchises are running out of steam by their third instalment. Thor: Ragnarok is an exception – and if you visit Gnomon next Saturday, 18 November 2017, you will have a unique chance to discover why.
During a free three-hour event at the school's Hollywood campus, six key artists from Marvel Studios' visual development team will explore how their work helped shape the movie's colourful cinematic universe.
The event, which will not be Livestreamed, provides a first-hand insight into Marvel's concept design workflow, and into the technical processes that go towards creating a visual effects blockbuster.
An behind-the-scenes tour of Thor: Ragnarok's colourful, cosmic universe
Directed by cult Kiwi film-maker and comedian Taika Waititi, Thor: Ragnarok provides a bold, freewheeling new take on the Thor cinematic universe.
Empire called it the "most outrageously fun film Marvel has yet produced", going on to describe the movie as "daft as a badger sandwich and twice as funny".
Gnomon's talk, The Art of Thor: Ragnarok – An Evening with Marvel Studios, provides a unique insight into how that visual universe – a "disorientating cocktail of riotous colour", according to Empire – was created.
Led by visual development director Andy Park, the session features a world-class panel of concept illustrators and sculptors: Jackson Sze, Anthony Francisco, Adam Ross, Tully Summers and Ian Joyner.
Together, they will share early designs of the movie's characters, including Thor, Loki, Valkyrie, Hela, and the gladiators that inhabit the Jack Kirby-inspired world of the Grandmaster, Sakaar.
As well as being an opportunity for Marvel fans to see some of the beautiful keyframe illustrations from Thor: Ragnarok, the session is a must for young artists hoping to break into movie concept design.
During the session, the panel will also discuss the 3D tools used to create the characters, and explore how 3D workflows have become pivotal during the concept design phase of the movie-making process.
Free to attend, but register online in advance
The Art of Thor: Ragnarok – An Evening With Marvel Studios takes place at Gnomon's Hollywood campus from 5.00-8.00pm on Saturday 18 November 2017. Entry is free, but you'll need to register online.
Unlike many of Gnomon's events, the session will not be broadcast on Livestream, so you will need to make it to LA in person. Gnomon advises booking early if you want a seat.
Read more about The Art of Thor: Ragnarok – An Evening with Marvel Studios on Gnomon's website

Full disclosure: CG Channel is owned by Gnomon – School of Visual Effects, Games and Animation.