Thursday, October 12th, 2017

Posted by Jim Thacker
Discover unseen concept art for Spider-Man: Homecoming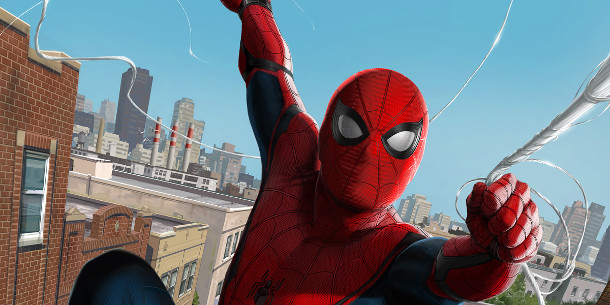 Image: Ryan Meinerding

Visitors to Gnomon's Hollywood campus this Saturday, 14 October will be able to discover the secrets of Marvel Studios' visual development work for the new Spider-Man reboot.
The school's free two-hour event, The Art of Spider-Man: Homecoming, features previously unseen concept art from the latest Marvel blockbuster, plus the chance to learn from five of the amazing artists who created it.
A unique chance to see early concept images for Spider-Man, The Vulture, Iron Man and Shocker
Led by head of visual development Ryan Meinerding, Marvel Studios' art department was responsible for the visual development of Spider-Man: Homecoming's costumes, characters, vehicles, environments and props.
In the two-hour presentation, Meinerding and concept artists Rodney Fuentebella, Alexander Mandradjiev, Phil Saunders and Paul Ozzimo will reveal some of that beautiful – and previously unseen – work.
As well as early designs for Spider-Man and his nemesis, The Vulture, visitors to Gnomon will have the chance to see the colour scheme stages for Iron Man's Mark XLVII suit and concept art for Shocker.
According to Gnomon: "Whether you're an aspiring or professional artist or a fan of the Marvel Universe, the event will be packed with visuals and insights you won't see elsewhere."
Free to attend, but register online in advance
The Art of Spider-Man: Homecoming – An Evening With Marvel Studios takes place at Gnomon's LA campus from 5.00-7.30pm on Saturday 14 October 2017. Entry is free, but you'll need to register online in advance.
Unlike many of Gnomon's events, the session will not be Livestreamed, so you'll need to be there in person.
Read more about The Art of Spider-Man: Homecoming on Gnomon's website

Full disclosure: CG Channel is owned by Gnomon – School of Visual Effects, Games and Animation.