Friday, November 13th, 2015

Posted by Jim Thacker
Luxion ships KeyShot 6
Luxion has released KeyShot 6, a big update to its rendering and technical animation package, adding a new geometry editor, a node-based material editor and support for Python scripting.
The update also removes the render resolution cap on the HD edition of the software, and bundles the Animation module – formerly a $500 add-on – with the Pro edition.
We covered some of the new functionality when Luxion released its teaser video earlier this year, but since there are quite a few features that weren't shown in the preview, we thought they were worth a separate story.
New in all editions of KeyShot: interior lighting mode, new materials and Shift Lens
If you're using the – now rather inaccurately named – HD edition of the software, the main change in KeyShot 6 will be the option to render images of unlimited resolution.
Of the other new features available to HD users, the most significant is the new Interior lighting mode.
In keeping with the software's traditional philosophy of simplifying rendering for less technically minded artists, it comes with six quality presets, from a simple geometry preview to full simulation.
There are also new material types, including more advanced Transparent, Plastic and Dielectric materials; and a new Occlusion procedural that removes the need to use workarounds to create ambient occlusion passes.
Other new features include a first-person view camera, intended for exploring more complex scenes; a new Shift Lens effect; updates to the Move tool; and the option to lock parts of the Scene Tree.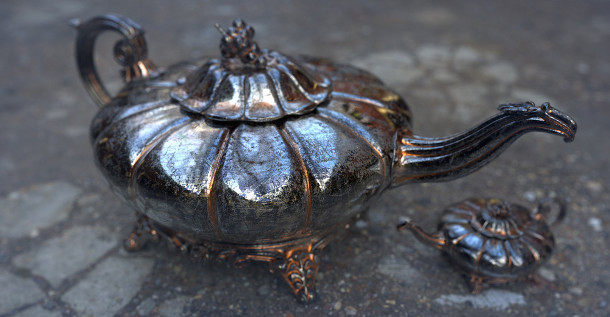 New features in KeyShot 6 Pro include a new Material Graph, enabling users to create more complex effects. Image: John Seymour.
New in KeyShot Pro: new geometry, material and script editors
In contrast, if you're using the Pro edition of the software, you get a whole range of new advanced features on top of the Animation module, including a node-based material editor and a scripting console.
Both are interesting additions, since they're systems of the kind from which Luxion previously tried to shield its users: traditionally, designers who found the complexity of standard DCC tools offputting.
We're not sure whether the change is a reflection of the increasing sophistication of the design market, or of the needs of a new wave of users drawn in by KeyShot for ZBrush, but it certainly makes KeyShot more flexible.
Other additions include a new Geometry Editor and its associated Geometry View for performing basic geometry editing operations directly inside KeyShot, such as splitting surfaces and closing open boundaries.
Pro users also get the option to save models and parts as Scene Sets to transfer from one scene to another; real-time region rendering; and the option to render multi-layered PSDs.
In addition, KeyShot's animation functionality, previously designed for simple technical animations, has been extended, including support for camera paths, zoom and depth of field animations, and animated materials.
The KeyShotVR module, which remains a separate $1,000 add-on, also gets a couple of new features, which you can read about in the release documentation.
Pricing and availability
KeyShot 6 is available now for 32- and 64-bit Windows and Mac OS X. Luxion has also released three new free plugins live-linking KeyShot to 3ds Max, Maya and Cinema 4D.
The HD edition costs $995 and the Pro edition costs $1,995. A floating licence costs $2,995 and and Enterprise licence, which includes the KeyShotVR and network rendering add-ons, costs $3,995.
Read a full list of new features in KeyShot 6 on Luxion's website