Monday, October 12th, 2015

Posted by Jim Thacker
Keller.io ships Superpose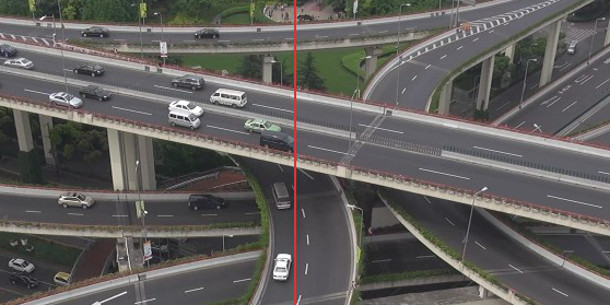 Originally posted on 3 September. Scroll down for details of the new After Effects version.
German VFX collective Keller.io has released Superpose, its in-house tool for generating clean plates in Nuke. The software automatically removes moving objects, like rain or crowds, from any shot with a static camera.
Automated plate clean-up in under a minute
According to Keller.io, Superpose "statistically analyses each pixel and calculates the probability of the background pixel value", leading to less ghosting than traditional cleanup techniques like frame averaging.
You can assign separate Superpose nodes to different parts of the image, but judging by the demos on the product site – created in under a minute using a single node, apparently – the results are already pretty good.
Keller.io says that it has used Superpose in production on its last few film projects. The collective's VFX reel includes work for Glassworks, Sehsucht, Trixter and German film-production company Claussen+Putz.
Pricing and availability
Superpose is available for Nuke 8+ on 64-bit Windows and Linux. A single node-locked licence costs €149 (around $170), and there is a watermarked demo. The software is currently available at a launch discount.
Updated 12 October: Keller.io has just released Superpose for After Effects. It runs on After Effects CC2015 on 64-bit Windows and Mac OS X, and at €99 ($113), it's a bit cheaper than the Nuke version: