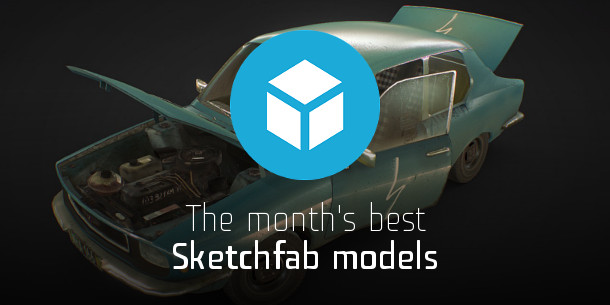 Sketchfab provides a simple way for anyone to publish and share their 3D models online. To celebrate the best in real-time 3D art, we asked the Sketchfab team to pick the 10 greatest models uploaded to the site this month.
To interact with a model in 3D, click the large Play icon in the centre of the frame.
To find out more about a model, click the small Sketchfab logo on the bottom left of the frame.
Dying Light: Trap Car by Karol Miklas
11.7k faces
Karol Miklas is a junior artist at Dying Light developer Techland. See more of his game assets on Behance
Small House Diorama by Glex Fox
12.6k faces
Balkhan by Dmitry Grebenkov
2.4k faces
Elf Girl by halloween
7.5k faces
Relais by Arthur Bourdot
217.0k faces
Gifts of Akatosh Armor by Rafael De Jongh
5.9k faces
Monument Forge Diorama by Ayhan Aydogan
26.5k faces
Support Cruiser by Mathias Koehler
20.3k faces
Behemoth by Will Furneaux
179.2k faces
Flamethrower by lucasvargas
10.4k faces

Want to vote for a model of the month? Just Like your favourites on the Sketchfab site, or upload your own!
Tags: April 2015, best 3D models, Dying Light, models of the month, real time, Sketchfab