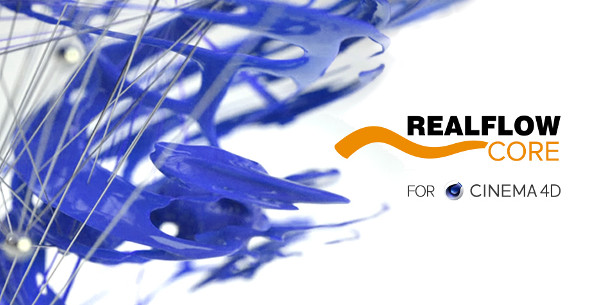 Next Limit's upcoming RFCORE for Cinema 4D will let users access RealFlow's SPH solver directly within Cinema 4D, enabling them to create and render small-scale fluid simulations without ever leaving C4D.
Next Limit has announced RFCORE for Cinema 4D: a new addition to its fluid simulation product line-up enabling users to access RealFlow directly from inside Cinema 4D.
The firm promises that there will be "no need to learn a new interface" to use RFCORE, which would make it the closest thing to a native fluids system in C4D, third-party tools like Effex and X-Particles notwithstanding.
Initially, all the information we had about RFCORE was the brief announcement at the foot of the story, so we contacted RealFlow Marketing Manager Katie Norris for more details, and received the following replies:
Q: Is this going to be a bridging plugin between the two software packages, or a complete implementation of RealFlow within Cinema 4D? Will you need a standalone licence of RealFlow to make use of it?
A: It will be an integration of RealFlow inside Cinema. You will need to purchase a license, but it won't be the full standalone package.
Q: Will users have to leave Cinema 4D at all in order to create and render out a liquid simulation?
A: No.
Q. Will RFCORE enable users to access all of the functionality in the standalone edition of RealFlow?
A: Not all. Large-scale features such as Hybrido won't be available, and RF dynamics won´t be integrated, but we shall be connecting with C4D dynamics in this first iteration. It will include RealFlow's brand-new SPH and new PBF solvers, and will therefore be perfect for high-quality small-scale sims.
Q: Will this be a commercial product?
A: This will be a commercial product. I can't confirm pricing as yet, but it will be in line with what customers would expect to pay for a third-party Cinema integration.
PRESS RELEASE (Reproduced in full)
Next Limit is delighted to announce its latest edition to the award-winning RealFlow portfolio: RFCORE for Cinema 4D.
With RFCORE|C4D, Cinema 4D users will be able to access RealFlow from inside Cinema!
NO need to learn a new interface!
NO need to move scene files in and out of Cinema 4D!
RealFlow Product Manager, Gustavo Sanchez, said: "We are very excited about RFCORE|C4D. We work a lot with the C4D community and understand that, for some artists, RealFlow might seem a little daunting. Therefore we are pleased to present them with a solution which will allow them to access high-quality RealFlow fluid simulations from inside their 3D package.
"Another exciting prospect is that RFCORE will also open up the possibility for other RealFlow integrations and we are keen to explore other opportunities which will make RealFlow accessible to many more artists."
RFCORE|C4D is scheduled to be out later this year.
Visit the RealFlow product website
Tags: C4D, Cinema 4D, Featured Articles, fluid simulation, liquids, Next Limit, price, RealFlow, release date, RFCore for Cinema 4D, RFCore|C4D