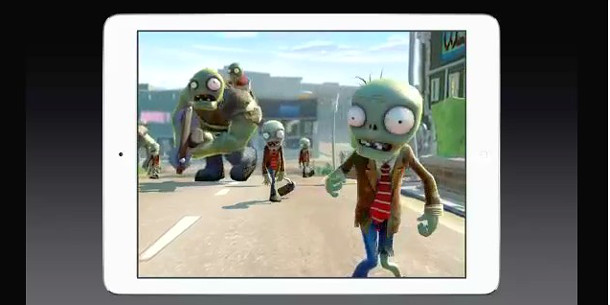 EA's console title Plants vs Zombies: Garden Warfare running on iOS 8. See footage of Unreal Engine 4 and EA's Frostbite engine running on iOS in the video of Apple's WWDC 2014 keynote (starts at 98:00).
Originally posted on 3 June. Scroll down for updates.
There were no hardware announcements in the keynote at Apple's WWDC 2014 conference – but there was still news of interest to CG artists, in the shape of Unreal Engine 4 and EA's Frostbite engine running on iOS 8.
Metal: a better alternative to OpenGL ES?
Due out this fall, the next version of iOS will feature Metal, a replacement for the OpenGL ES graphics API, which Apple SVP of engineering Craig Federighi dismissed as a "thick layer" between a game and the hardware.
Federighi touted Metal's draw call rates ("10x faster"), efficient multithreading, and support for precompiled shaders – then went on to provide some tangible evidence, in the shape of demos from EA and Epic Games.
The EA demo was prerecorded, and showed footage of PS4 and Xbox One shooter Plants vs. Zombies: Garden Warfare running on iOS. According to Federighi, it showed over 1.3 million triangles on screen, and real-time DoF.
"[EA] thought their Frostbite engine could never come to mobile – and now it can," he said.
The recorded footage made it hard to judge performance, but the prospect of Frosbite 3 running on iOS is a tantalising one. As well as Garden Warfare, the engine is in use on upcoming AAA titles like Mirror's Edge 2.
Unreal Engine 4 on iOS with 'full fidelity'
Epic Games were next up – and this time, with a live demo.
Director of engineering Josh Adams showed off the developer's 'Zen Garden': an interactive environment built in Unreal Engine 4, and featuring real-time flocking AI, and up to 3,500 individually animated butterflies.
Although UE4 can already deploy to iOS, Epic founder Tim Sweeney cited "an order of magnitude increase in detail" between Metal and existing APIs, saying that the demo runs on iOS "with full fidelity and performance".
Game devs will be able to test that assertion for themselves, since the Metal code in Unreal Engine 4 will be available to developers "at an appropriate time" after the beta access NDAs are lifted.
Updated 18 September: Epic Games just made its Zen Garden app available as a free download from the iTunes App store. You can watch the demo video above or download the app here.
Watch Apple's full WWDC keynote (The coverage of metal starts at 98:00)
Tags: API, Apple, Craig Federighi, download, EA, Epic Games, free, Frostbite 3, iOS, iOS 8, Josh Adams, Metal, mobile, OpenGL ES, Plants vs Zombies: Garden Warfare, tablet, Unity, Unreal Engine 4, WWDC, WWDC 2014, zen garden