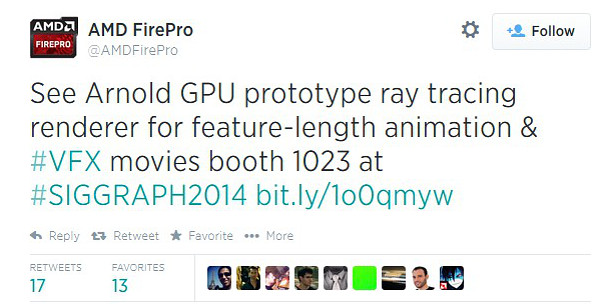 Solid Angle is to show off a prototype version of Arnold running on the GPU at Siggraph 2014, according to a tweet on the AMD FirePro Twitter account.
The announcement is only 140 characters, so not much detail yet
Given that the prototype will be on show on AMD's own booth, it seems safe to assume that it makes use of OpenCL – although we aren't sure whether its purely OpenCL-based, or if there's also a CUDA implementation.
Updated: We just spoke to AMD, who confirmed the prototype is OpenCL-only.
And in the past, it has taken new tech shown on the AMD booth anywhere from a few months and a few years to make its way to a full public release, so you won't necessarily be running Arnold on the GPU imminently.
Good news for smaller studios?
Nevertheless, a lot of people will be watching the demo with interest, particularly mid-sized studios interested in moving to a GPU-based workflow, but without the R&D resources to develop a proprietary renderer.
When we spoke to The Mill NY's head of CG, Vince Baertsoen, about the subject earlier this year, he told us:
"I'm more interested in seeing Solid Angle coming up with a GPU solution. I know Nvidia is doing its own thing with iray, but if in a few years, we want to switch to GPUs, it would be nice to see a solution in Arnold."
A busy Siggraph for Solid Angle
In separate news, Solid Angle has announced that it will be showing the upcoming 4.2 release of Arnold at Siggraph, along with new link plugins for Houdini and Cinema 4D.
Read more about Arnold on the Solid Angle website
Tags: AMD, Arnold, CUDA, demo, Featured Articles, GPU-accelerated, GPU-based, OpenCL, prototype, Siggraph 2014