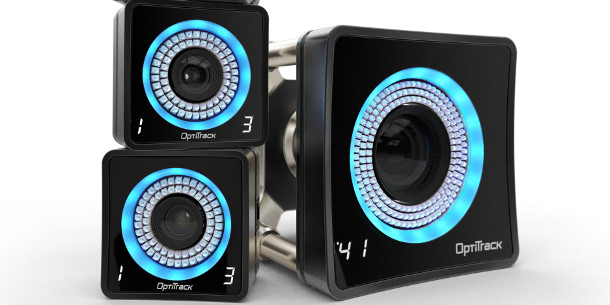 OptiTrack's new Prime 13 motion-capture camera, stacked next to the existing Prime 41. The Prime 13 and its wide-angle sister model, the Prime 13W, fill out the lower end of the Prime range, priced at $1,999 and $2,299.
OptiTrack has announced two new additions to its Prime range of mocap cameras. Both new models are on show at GDC 2014 this week.
Priced at $1,999 and $2,299, the new Prime 13 and Prime 13W offer 1.3MP resolution and a 240fps capture rate, with the extra cost of the 13W buying an 82° field of view as opposed to the 13's 56°.
The new models fill out the gap between the existing Prime 17 and 41 and OptiTrack's budget Flex range, which also offers 1.3MP resolution, but only half the capture rate, and USB as opposed to Ethernet networking.
PRESS RELEASE (Excerpts)
OptiTrack today announced a pair of additions to its premier line of motion capture and tracking cameras – the Prime 13 and Prime 13W, which will publicly debut in the OptiTrack booth (#924) at the Game Developers Conference (GDC) held March 19-21, 2014 at the Moscone Center in San Francisco, Calif.
Offering 40' tracking range, 1.3 megapixel (MP) resolution, and 240 FPS capture rate, the Prime 13 is ideal for medium-sized motion tracking applications that require a blend of performance and affordability. The Prime 13W is an ultra-wide FOV variant specifically tuned for tracking almost every inch of smaller spaces, such as CAVEs, powerwalls, HMD environments, gait labs, and other compact installations.
Both models are equipped with signature Prime Series features, including industry-leading 3D precision, scalable Ethernet interface, fully infrared (IR) illumination, synchronized reference video mode with 3D overlay, an on-camera status indicator and Aim Assist technology for single user setup.
Motion capture specialists Imagination Studios -– an outfit that has contributed to AAA titles such as the "Battlefield" franchise, the "Hitman" series and "Alan Wake" -– is building the world''s first Prime 13 stage, which will be used for 3D animation and previs across entertainment projects.
""As existing users of the Insight VCS, our team at IMS has a high level of familiarity with and confidence in OptiTrack products,"" said Andrew Hutchinson, Animation Manager at Imagination Studios. ""We are delighted with the launch of the Prime 13, as this system fits precisely with our plans to further our capabilities and reach. The Prime 13 perfectly complements our existing setup, suiting a broader range of customers and budgets while still allowing us to continue providing our world-renowned quality and service.""
Key features and specs include:
Prime 13: 56° × 45° FOV and 40' range to marker
Prime 13W: expansive 82° × 70° FOV, for exceptional coverage in compact setup areas
1.3 MP imager for 3D precision of 0.5mm at long ranges and 0.2mm in close proximity
240 FPS capture rate with global shutter for accurately capturing fast-moving objects
Discreet 2.7" × 2.7" form factor and invisible 850nm IR
Filter Switcher technology for alternating between IR and visible spectrum with a single mouse click
Real-time MJPEG compression enables numerous cameras to operate in reference video mode, simultaneously
On-camera RGB status indicator, for monitoring system health and activity
Compatibility with S250e, Prime 41, and Prime 17W cameras, for expanding existing OptiTrack systems
Genlock, SMPTE Time Code and external sync when used alongside the eSync
Direct camera access for OEM integration via free Camera SDK
Now available for $1,999 and $2,299 respectively, the Prime 13 and Prime 13W join the Prime 41 and Prime 17W in OptiTrack''s Prime Series of cameras.
Read more about the Prime 13 on OptiTrack's website
Read more about the Prime 13W on OptiTrack's website
Tags: 1.3MP, 240fps, affordable, camera, Ethernet, GDC 2014, low-cost, mocap, motion capture, optical, OptiTrack, Prime 13, Prime 13W