Founded by leading Vue artist Dax Pandhi, QuadSpinner's Helios plugins enable Vue users to create ultra-detailed skies for VFX work. The basic SkyBuilder edition is out now; Artist and Professional editions follow next month.
QuadSpinner has released Helios: its ambitious, VFX-focused atmospheric design toolset for Vue. The entry-level SkyBuilder edition is available for purchase now, with Artist and Professional editions due next month.
Designed with movie effects in mind, Helios is intended to enable users to create ultra-realistic skies in full 3D, complete with parallax effects; and to output matte paintings and skydomes at up to 20k resolution.
GPU-powered real-time sky editing
The $99 SkyBuilder edition supplies the base of the toolset, providing users with an intuitive way to control Vue's Spectral Atmospheres.
The UI displays a vertical 'slice' of the atmosphere, with components like haze and decay shown as draggable horizontal bars. Dragging on the sun controls glow; and dragging on its coronal ring controls Scattering Anisotropy.
Parameters can also be edited via more familiar numeric settings; while SkyEditor's color mixer supports LAB and HEX colour values as well as Vue's native RGB and HSL values.
A non-linear atmosphere-editing workflow
While the tools themselves are interesting, arguably the most powerful aspect of Helios is its procedural workflow. The software's Flux system enables users to edit atmospheres in a non-linear, non-destructive way.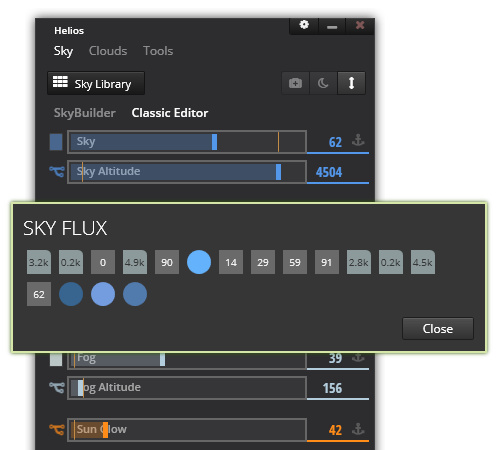 The software records a series of 'pulses' (shown above) corresponding to individual changes to scene settings, each of which can be toggled on or off at will, encouraging creative experimentation.
Data can be saved in Helios's .sky format, a 'companion' format to Vue's native .atm files, which exposes individual atmospheric components, and also permits partial saving and loading.
Users can choose which parameter values to export or import, enabling them to overwrite some components of an existing scene while preserving others.
There is even an option to generate a SkyCode – a numerical string, like an old-school save code for a game – which can be shared with other Helios users.
Cloud-editing tools to come
Atmospheric colour and scattering are all very well, but for realistic skies, you'll need to create clouds – and for that, you'll need one of the two higher-end editions of the software.
Helios's cloud-editing system promises an intuitive way to mimic anything from volcanic plumes to aurorae, powered by "a hyper-complex network of over 2,200 logic nodes".
Cloud forms can be affected by wind forces, or direct shape editing; and the results can be saved in Helios's native .cloud format, which offers equivalent functionality to .sky.
The top-of-the range Professional edition will also add more advanced editing, animation and relighting tools, and the option to export Z-Depth data for compositing.
Pricing and availability
Helios SkyBuilder is available now, price $99, for Vue 10.5 or higher, running on Windows Vista SP2 or above. A Mac version is in currently in development.
You'll need a 64-bit edition of Vue Infinite or xStream to use the software. Via xStream, Helios is compatible with 3ds Max, Maya, Cinema 4D, LightWave and Softimage.
The $499 Artist and $999 Professional editions of the software are currently available to pre-order, and are scheduled to ship in November.
Read more about SkyBuilder on the Helios website
Tags: artist, atmosphere, cloud, Dax Pandhi's, FluX, Helios, non-destructive, nonlinear, procedural, professional, QuadSpinner, sky, SkyBuilder, Spectral Atomosphere, vfx, visual effects, Vue, Vue Infinite, Vue xStream