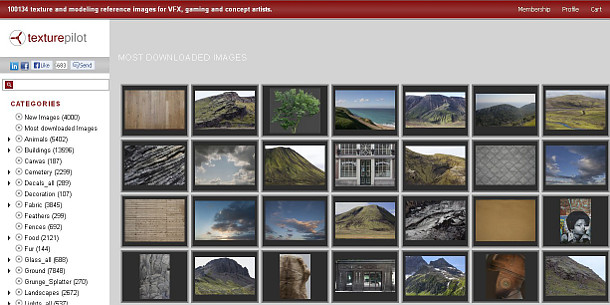 At CG Channel, we get to hear about more sites offering resources for CG artists than we can actually feature. But when one comes endorsed by a leading texture artist like Justin Holt, it bears further investigation.
Online texture library Texturepilot comes with just that endorsement (Holt called it "phenomenal") – and for good reason. Founded two years ago, the site now offers over 100,000 reference and texture images for download.
Good content, well organised
The content is straightforward to navigate, with a menu system that divides images into practical categories and sub-categories: images of tiles are divided into 'plain', 'ornate' or 'Oriental', for example.
Grunge maps and seamless textures – of which there are over 1,300 – are grouped separately.
There are also the usual options to search by keywords, and a nice large central area that displays a good number of thumbnails at a glance.
The images themselves are grouped into sets showing alternate views of a single object, with each image offered at a range of three resolutions, usually ranging from 1,600 to over 5,000 pixels in width.
Most importantly, content is of a much higher quality and consistency than on many sites: images are photographed face on under neutral lighting, and cropped sensibly, minimising the preparation work required.
Free and paid membership
A free account provides 25MB of download capacity per day, so for serious work, you will need a paid subscription to increase that bandwidth limit. Membership starts at €69 ($90) per year.
All in all, Texturepilot has the things that VFX, games and concept artists actually need from a texture resource – and nothing that they don't. If you haven't already visited, check it out today.
Tags: digital image, free, games, grunge map, image, Image Engine, Justin Holt, library, reference, resource, seamless, splat map, texture, Texturepilot, vfx, visual effects