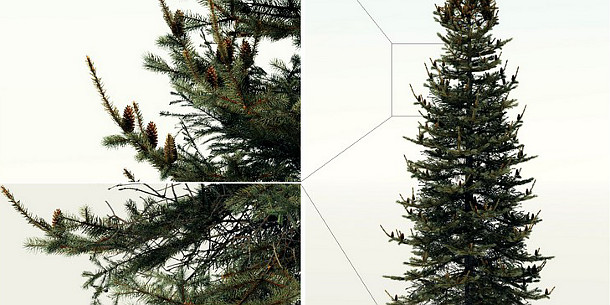 e-on software has released more information about The Plant Factory, its new plant (and mushroom) modelling and rendering technology, including a brief FAQs document.
In truth, the FAQs raises more questions than it answers, merely noting that the software will be out in the next three months and that the pricing structure hasn't been finalised.
However, it does confirm that The Plant Factory will be a standalone application, capable of exporting models to other 3D applications via file formats such as FBX, 3DS, OBJ, but that it will be more tightly integrated with Vue, with version 11 and above of the software able to read files in The Plant Factory's native .veg format.
Build plants from nodes, or paint the shapes
According to a separate post on The Plant Factory teaser site, the software will be capable of creating plants by mixing and matching ready-made components, building a node graph, or "manually painting the shape".
e-on comments that building graphs is the most powerful approach, but the idea of painting the form of a plant is immediately appealing, and reminiscent of apps like TreeSketch.
Either way, the results are impressive: the test renders posted on the site, including the pine tree shown at the top of this story. are some of the most detailed we've yet seen created with off-the-shelf software.
Visit The Plant Factory website (Still only teaser information)
Tags: 3DS, Creation, e-on, e-on software, FAQs, FBX, Featured Articles, graph, modelling, node, OBJ, paint, plant, rendering, The Plant Factory, TPF, vegetation, Vue