Friday, April 19th, 2013

Posted by Jim Thacker
CGTrader introduces eBay-style haggling system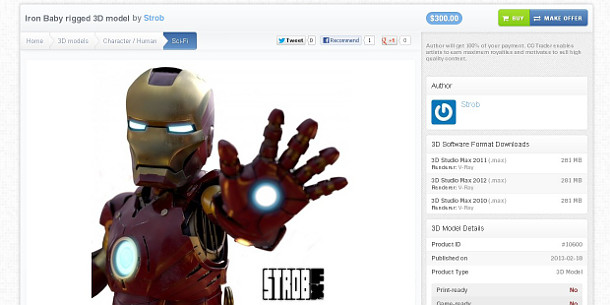 Online marketplace CGTrader has relaunched, featuring a complete site redesign and adding a new option for buyers to negotiate the prices of models purchased through the website with their authors.
An unusual pricing model
CGTrader made headlines for its unique pricing model when it launched in 2011. Rather than charge a percentage commission on sales, the first sale is free; then sellers pay a fee to 'reactivate' the asset.
The fee structure is now tiered, rather than the original one-size-fits-all charge of $5, but the principle remains. CGTrader claims that an average author receives over 90% of the proceeds: much higher than other such sites.
Haggling for models
The relaunch adds an additional option for buyers to negotiate the price of an asset with the seller. The site describes this as 'going eBay', after eBay's Best Offer system.
Rather than bidding against anyone, clicking on the 'Make Offer' button enables you to nominate an alternative price that the seller can accept, decline outright, or choose to negotiate further.
According to CGTrader, the system "reflects our attitude towards the market – be flexible and get more sales".
It's something we could see working well on higher-priced assets – although it would be interesting to know how much of the seller's time is taken up by haggling over popular, lower-priced models.
As well as the new negotiation option, CGTrader has overhauled its product search and publishing systems. You can find a full list of the changes on the blog post linked below.
Read CGTrader's full announcement about the redesign and new pricing system