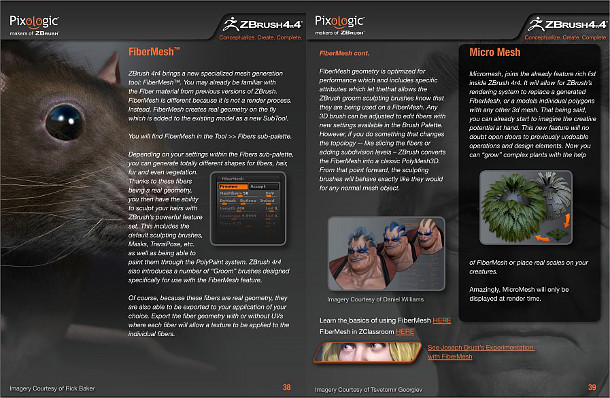 A spread from Getting Started with ZBrush 4R4. The free 34-page guide introduces basic ZBrush workflow, along with key new tools such as FiberMesh, DynaMesh, QRemesher and InsertMultiMesh.
Pixologic has released Getting Started with ZBrush 4R4, a free 34-page PDF guide to the digital sculpting tool.
Getting Started with ZBrush 4R4 acts as an introduction to key tools introduced in recent releases of ZBrush, such as the QRemesher retopology system, InsertMultiMesh and FiberMesh hair and fur.
But it's also a solid introduction to basic ZBrush workflow, running through most of the key tools and techniques, and including live links to longer online walkthroughs.
And, as you might expect, it includes a lot of great work created with the software, with images from over 50 ZBrush stars, including Ryan Kingslien, Rafael Grassetti and Kris Costa.
Download Getting Started with ZBrush 4R4
Tags: free, Getting Started with ZBrush 4R4, guide, Pixologic, Training, tutorial, ZBrush, ZBrush 4R4