Wednesday, November 9th, 2011

Posted by Jim Thacker
Golaem releases Golaem Crowd 1.3 for Maya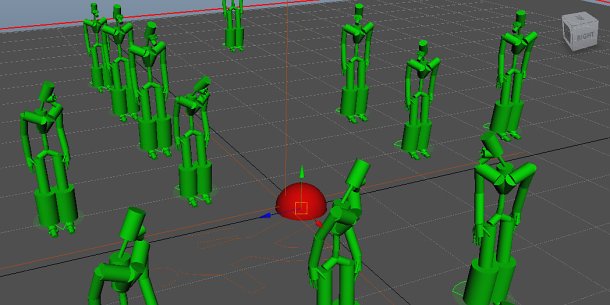 Keep your eye on the ball: Golaem Crowd 1.3's new Look At behaviour in action.
Golaem has released version 1.3 of Crowd, its crowd-simulation system for Maya – and for the first time, has publicly announced its price.
Golaem Crowd 1.3 is available for €3,499 ($4,799) per floating node.
The pricing fits with Golaem's sales pitch – as an alternative to the industry-standard Massive for smaller studios without dedicated crowd TDs – coming in $1,000 below Massive Jet and $13,000 below Massive Prime.
Golaem is the second lower-cost Maya crowd simulation system to be released this month: last week, Hong Kong-based developer Basefount Technology released Miarmy Pro for just $750.
In addition to the usual round of bugfixes and tweaks, Golaem Crowd 1.3 adds two new behaviours: an IK behaviour intended to enable digital actors to point at or touch targets, and a standard Look At behaviour.
Read more about the new features on the Golaem Crowd blog