Monday, November 1st, 2010

Posted by Jim Thacker
Axsotic releases details of intriguing new '3D mouse'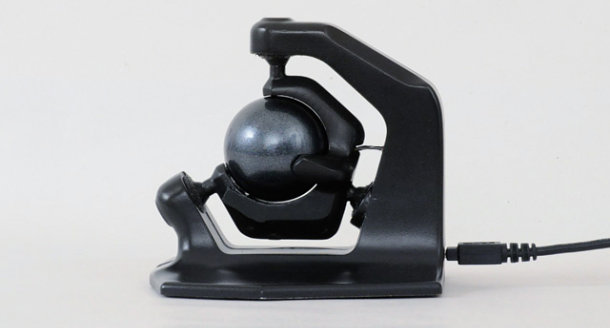 German start-up Axsotic has released details of an intriguing new 3D input device. The 3D-Spheric-Mouse is claimed to enable artists to move and rotate 3D models in six degrees of freedom while continuing to work on them with their free hand.
The demo video below shows a user working on a tablet, rotating a 3D model with the mouse using their right hand and painting onto its surface using the stylus held in their left. Unlike 3Dconnexion's controllers, the 'mouse' has an actual trackball, rather than a dial that may be rocked back and forth.
The company claims that the 3D-Spheric-Mouse gives artists a workflow of unparalleled fluidity.
According to a press statement: "In a normal 3D workflow, you need to serialize navigation steps to move, zoom and rotate. [Only] then can you work. With the 3D-Spheric-Mouse you can do all of the steps at the same time."
Axsotic says that the mouse is "instantly compatible" with most Windows machines and Macs, and has an automatic calibration routine.
According to the press statement: "Because of this, no driver has to be installed and the 3D application of your choice needs only a plug-in that can be downloaded or built using our SDK."
As yet, no plug-ins are available on the Axsotic website, so we're not sure whether these will be provided later, or whether the 3D-Spheric Mouse will work with the main 3D applications out of the box.
No details of the release date or pricing are available. The site is currently inviting users to register for updates. We've contacted Axsotic for more details, and will update when we have them.