Thursday, October 7th, 2010

Posted by Jim Thacker
UK visual effects houses call for new recruits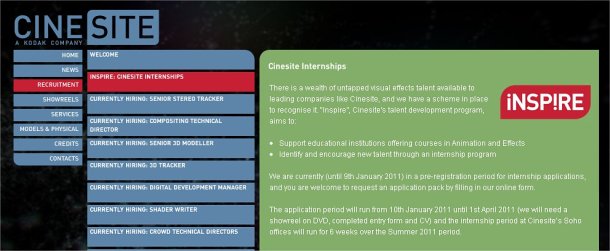 Want to work in VFX? Try the UK. With major projects like John Carter of Mars and Alfonso Cuaron's Gravity boosting the local movie effects market, two leading British facilities have put out the call for new recruits.
This week, Cinesite opened pre-registration to its 2011 internship program. The scheme, which has been running since 2009, offers students and recent graduates the chance for on-the-job training with a view to a permanent position further down the line.
Both of the winners of the 2010 program are now working full-time at Cinesite.
Applications will be accepted from January 10, 2011, but Cinesite is encouraging applicants to visit its website now and register for the information pack.
Not to be outdone (actually, the news was announced last week), MPC has just hit the road for its European recruitment tour.
Potential employees can come to visit studio representatives at the following venues:
8 October
Munich, The Hotel Bayerischer Hof
14-15 October
Paris, The Hotel Concorde Montparnasse
26-27 October
Turin, View Conference
Anyone interested should email MPC via recruitment-roadshow@moving-picture.com, specifying the location of choice, your contact details and the job you wish to apply for. The studio will then send back a personal invitation with more details.
Details of current vacancies can be found in the jobs section of the MPC website.