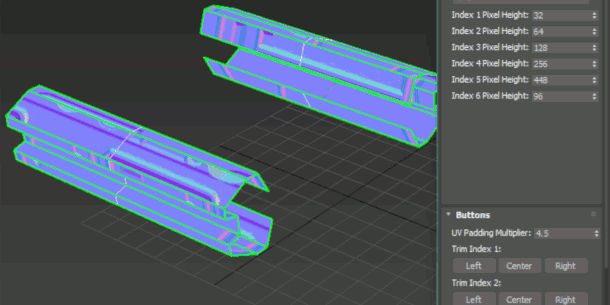 Scumbrella Studios – aka environment artist Justen Lazzaro – has released a new 3ds Max version of its Ultimate Trim UV add-on, previously available for Blender.
The tools, which implement Insomniac Games' Ultimate Trim texturing worklow, are free for non-commercial use, along with trim sheet generators for Substance Painter and Substance Designer.
So what is the Ultimate Trim workflow?
Developed by Insomniac Games for its work on Sunset Overdrive, the Ultimate Trim technique creates a high-poly look with fake beveled edges for hard-surface environment assets and props.
It's intended to speed up texturing work, since materials created in this way can be swapped between assets without the need to change UV mapping.
The technique requires a standardised trim layout, with trim sheets divided into horizontal strips of progressively increasing vertical resolution, plus normal maps with 45-degree bevels along all edges.
You can find more information in Insomniac Games principal environment artist Morten Olsen's talk from GDC 2015: this PDF gives a quick overview, or you can watch the entire session here.
Tools to implement Ultimate Trim within 3ds Max, Blender and the Substance apps
Justen Lazzaro's tools automate an Ultimate Trim workflow within their host applications.
The Substance Painter and Substance Designer add-ons generate trim sheets in the correct format, with between two and 12 horizontal layers, and customisable bevels.
The Blender and 3ds Max add-ons streamline the process of assigning trim sheets to an unwrapped 3D model, resizing the UV island selected to match a chosen trim layer.
Availability and system requirements
Ultimate Trim UV is available for 3ds Max 2016+ and Blender 2.79+. Lazzaro says that he aims to support other DCC tools, particularly Maya, in future.
Ultimate Trim Generator is available for Substance Designer 6.0.3+ and Substance Painter 2.4.1+.
Ultimate Trim UV for Blender is completely free; the other tools are free for non-commercial use. Commercial licences cost $10 for users with revenues under $100,000/year; $40 otherwise.

Read more about Justen Lazzaro's Ultimate Trim tools in his ArtStation gallery
Download Ultimate Trim UV and Ultimate Trim Generator from Scumbrella Studios' Gumroad store
Tags: 3ds max, Blender, download, environment asset, free, game development, Insomniac Games, Justen Lazzaro, price, Substance Designer, Substance Painter, Sunset Overdrive, system requirements, texturing, trim index, trim layout, trim sheet, Ultimate Trim Generator, Ultimate Trim UV, UV, workflow