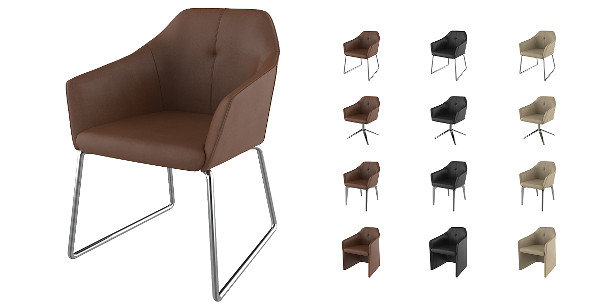 Luxion has released KeyShot 7.2, the latest update to its rendering and technical animation software, improving support for HiDPI displays, and adding the option to export metadata in XMP format.
According to the changelog, the release rolled out last month, but Luxion has only just posted it on its blog.
Improved support for HiDPI displays, new metadata export options
New features common to all editions of KeyShot include better support for HiDPI displays, including improved scaling of UI elements and text, and the option to set text size manually.
The software can also be set to take pixel size taken into account when using a high-resolution display with system scaling applied, which should result in a higher-quality image in the real-time view.
Other changes include the option to export metadata like the active camera and material assignments alongside a render, using Adobe's XMP format.
New Configurator wizard for Pro users, plus integration with Deadline
Users of the Pro edition of the software get a new wizard for the Configurator system added in KeyShot 7, making it easier to create variations of models and materials to present to clients.
Outside the core application, KeyShot also now integrates with Deadline, Thinkbox Software's render management software.
Pricing and availability
KeyShot 7.2 is available for 64-bit Windows 7+ and Mac OS X 10.8+. It comes with integration plugins for a range of DCC and CAD tools, including 3ds Max, Cinema 4D, Maya and ZBrush.
A new licence of the HD edition costs $995; the Pro edition costs $1,995. An Enterprise licence, which includes the KeyShotXR and network rendering add-ons, costs $3,995. See a comparison table here.

Read a full list of new features in KeyShot 7,2 in the online documentation
Read more about KeyShot on Luxion's website
Tags: Configurator, Configurator Wizard, Deadline, HiDPI, KeyShot, KeyShot 7.2, metadata, new features, price, render management, render manager, renderer, rendering, XMP