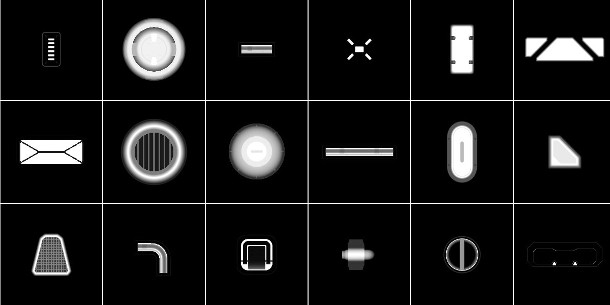 Games artist Dan 'Green' Rožański has released a useful set of 21 free alpha masks for creating hard-surface details in digital sculpting and texturing software.
Subject matter ranges from small details like bolts, pipes and valves to larger sections of walls and flooring.
The files, which have been tested in ZBrush, Quixel Suite, Mudbox and Allegorithmic's Substance tools, are provided as 2,048 x 2,048px TIFFs or PSD files, and are licensed for use on commercial projects.
Part of a larger commercial collection of hard-surface alpha masks
If you find the files useful, Rožański has a collection of 245 hard-surface alpha masks available on Gumroad for $5, and a collection of 174 alpha masks of human bones for $6. You can find them via the link below.
Get Dan 'Green' Rožański's 21 free hard-surface alpha masks for tools like ZBrush and Substance
(To download them for free, enter a figure of $0, or enter a voluntary donation)
View Rožański's commercial alpha collections on Gumroad
Tags: 2K, alpha, Blender, Bolt, brush, Dan Rožański, download, flooring, free, Green, hard surface, mask, Mudbox, PSD, Quixel Suite, sculpting, Substance Designer, Substance Painter, texture creation, texturing, TIFF, valve. pipe, vent, wall, ZBrush