Unwrella in action, in a video recorded for the release of Unwrella 3.0 in 2014. Version 3.10, which shipped earlier this month, adds a fast new flatten unwrap mode for hard-surface models to the UV unfolding plugin.

Tools developer 3d-io has released Unwrella 3.10, the latest update to its UV unwrapping plugin for 3ds Max and Maya, adding a new Flatten Unwrap mode, and improving speed stability and performance.
A well-established UV unwrapping solution
Although 3d-io describes version 3.10 as a "minor update", we thought it was worth featuring here as, amazingly, we've never covered Unwrella on CG Channel before, although it's been around since 2008.
Designed as a one-click solution for unfolding 3D models with "exact pixel to model surface aspect ratio", the plugin is designed to create an efficient, user-customisable UV layout, with minimal texture stretching.
UV seams are naturally generated along features of the model where they will be less noticeable, like grooves or ridges, but can also be placed manually for finer control.
3d-io describes the plugin as "excellent for all kinds of models", including both organic and hard-surface assets, and the UV layouts generated are designed for use with game engines as well as in offline work.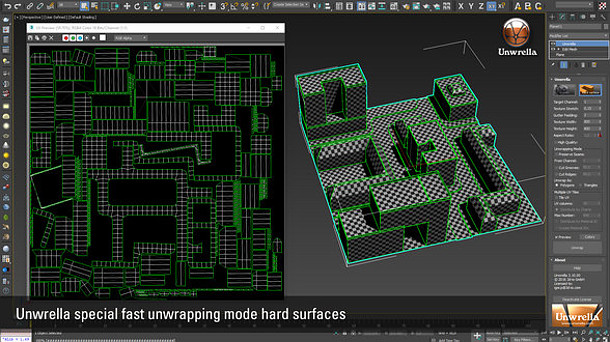 New in 3.10: new fast flatten unwrap mode for hard-surface objects
The main new feature in Unwrella 3.10 is a new flatten unwrap mode, described on 3d-io's website as a "special fast unwrapping mode [for] hard surfaces".
The announcement also mentions Unwrella's ability to create and pack UV tile sets suitable for use with tools like Mari, Mudbox or ZBrush – although, since the wording is identical to that used for Unwrella 3.0, back in 2014, we're not sure what, if anything, has changed this time round.
Aside from that, there are fixes for issues with unwrapping objects with very large UV charts or specific mesh topologies; and the 3ds Max version has a number of performance improvements.
Pricing and availability
Unwrella 3.10 is available for 3ds Max 2010 and above and Maya and above, running on Windows only. A new licence of either edition costs €149 (around $160). The update is free to existing users.
Read a full list of new features in Unwrella 3.10 on the product website
Tags: 3d-io, 3ds max, flatten unwrap, hard surface model, Mari, Maya, Mudbox, new features, organic model, plugin, price, Unwrella, Unwrella 3, Unwrella 3.0, Unwrella 3.10, UV packing, UV tiles, UV unfolding, UV unwrapping, ZBrush