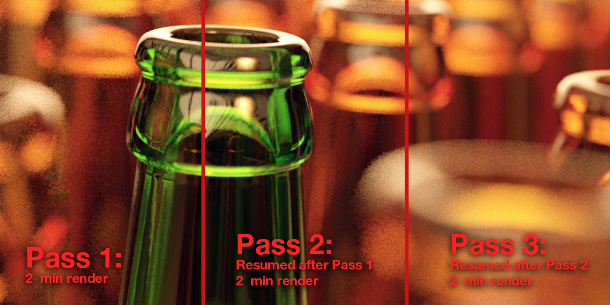 Originally posted on 5 December 2016. Scroll down to watch the new teaser video.
Chaos Group Laboratories, Chaos Group's R&D centre, has posted a preview of the new resumable rendering feature coming up in V-Ray 3.5.
The feature, which, as the name suggests, enables renders to be stopped and resumed an indefinite number of times, will be made available in V-Ray 3.5 for 3ds Max, then rolled out to other platforms.
The developer has also posted a list of other new features due in V-Ray 3.5 for 3ds Max, including extended support for GPU rendering and direct output to VR headsets from V-Ray RT.
Resumable rendering protects against accidental outages; opens new rendering workflows
According to Chaos Group, resumable rendering will work with both bucket and progressive renders, saving cached project data as a 'sidecar file' in the same directory as the image.
The sidecar file enables V-Ray to pick up more or less where it left off if a render is paused and resumed, although it still needs to reload textures and recalculate the irradiance map.
As well as protecting against accidental failures, such as power outages, machines running out of RAM, or cloud instances becoming unavailable, the feature opens up new rendering workflows.
In its blog post, Chaos Group proposes resumable rendering as a way of moving a higher-priority job to the render farm without losing current progress; or for refining renders in a series of passes.
Extended GPU support for V-Ray RT
The update will also extend the functionality of V-Ray RT, V-Ray's real-time interactive render engine.
To that end, V-Ray 3.5 introduces support for a number of features previously unavailable in V-Ray RT when rendering on the GPU, including the RenderID, ObjectID, MtlID and VRayAtmosphere render elements.
In addition, V-Ray RT GPU can now handle additive mode and layer transparency in the VRayBlendMtl; and supports the VRayStochasticFlakesMtl material.
The update also introduces GPU support for render masks and the velocity render element; and "fixes differences" in lighting and texture blending between V-Ray RT running on the GPU and CPU.
Other changes common to V-Ray RT on both GPU and CPU include the option to pick objects or set the focal distance for the selected camera directly in the frame buffer.
V-Ray RT will also be able to ouput directly to the Oculus Rift and HTC Vive virtual reality headsets.
Updated: The original version of this story referred to the online documentation as stating that the update will enable usage of V-Ray RT as an interactive production renderer.
That part of the online documentation actually refers to the core V-Ray render engine.
New Adaptive Lighting system, integrated alShaders support
As we reported previously, other features due in V-Ray 3.5 for 3ds Max include a new Adaptive Lights option for optimising sampling in scenes with high numbers of lights.
The new implementation of Arnold's alSurface ubershader will also become part of the core software, rather than a separate free add-on.
Other changes include a new glossy Fresnel option in VRayMtl and hardware acceleration for lens effects in the frame buffer. You can read a full list via the link at the foot of this story.

Updated 23 December 2016: Chaos Group has posted a new teaser video for V-Ray 3.5 for 3ds Max.
The company has also updated the product website for V-Ray for 3ds Max with more information about the upcoming features, and an online product roadmap.
As well as those discussed above, other new features in V-Ray 3.5 include the option to set different bit depths for different render elements, and to change ActiveShade resolution on the fly in V-Ray RT GPU.
The update will also add support for materials in Nvidia's MDL format, used in its Iray and mental ray renderers, and third-party DCC applications like Substance Designer.

Pricing and availability
V-Ray 3.5 for 3ds Max is currently in closed beta. Chaos Group hasn't announced a release date yet.
New licences start at $1,040 for one floating user licence and one floating render node licence, and are available for 64-bit 3ds Max 2012 and above. The update will be free to existing users.

Read more about the new resumable rendering feature in V-Ray 3.5 on Chaos Group Laboratories' blog
Read a full list of new features due in V-Ray 3.5 for 3ds Max in Chaos Group's online documentation
Tags: ActiveShade, adaptive lighting, alSurface, Arnold, bit depth, Chaos Group, Chaos Group Labs, glossy Fresnel, GPU rendering, GPU-accelerated, GPU-based, HTC Vive, MtlID, new features, ObjectID, Oculus Rift, preview, price, production rendering, release date, render element, RenderID, resolution, resumable rendering, V-Ray, V-Ray 3.5, V-Ray 3.5 for 3ds Max, V-Ray RT, V-Ray RT GPU, video, VRayAtmosphere, VRayBlendMtl, VRayMtl, VRayStochasticFlakesMtl