Thursday, October 20th, 2022

Posted by Jim Thacker
Andersson Technologies releases SynthEyes 2210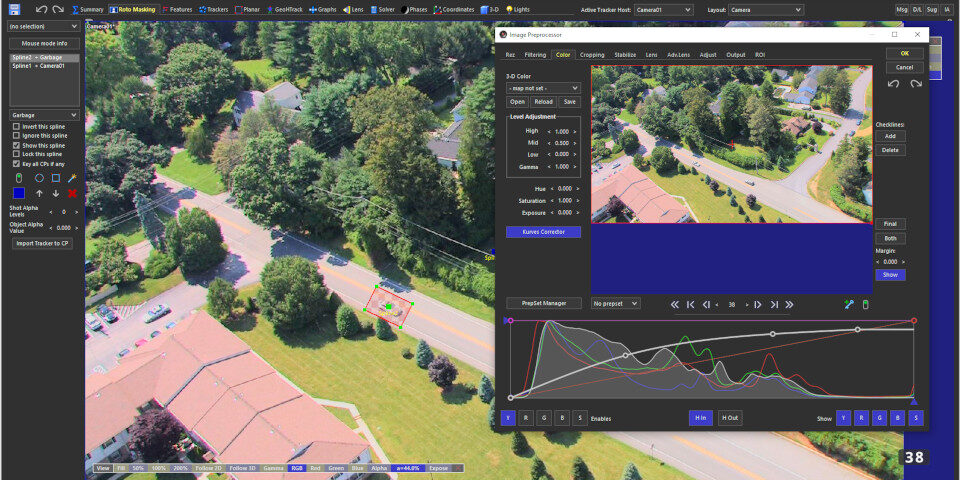 Kurves, the new curve-based colour correction tool added to the image preprocessor in SynthEyes 2210. The update also improves roto masking and colour keying workflow in the 3D tracking and match moving app.

Andersson Technologies has released SynthEyes 2210, the latest version of its 3D tracking and match moving software, adding a new curve-based colour correction tool, and improving roto masking workflow.
New 'Kurves' colour correction tool added to SynthEyes' image preprocessor
The update focuses on SynthEyes' front end, in particular the image preprocessor, which gets a new curve-based colour correction tool with support for animated control points, shown in the screenshot above.
In addition, a new PrepSet Manager for image preprocessor presets has been added to the Shot menu.

Improvements to roto masking workflow
SynthEyes 2210 also streamlines roto masking workflow inside the software, with users now able to move and rotate roto splines as a unit, and to select and move multiple roto spline control points at once.
There are a lot of other quality of life improvements for manipulating splines, listed in the release notes.
A new RotoMask button on the View toolbar overlays a checkerboard showing which pixels would be assigned to the current Active Tracker Host by the auto-tracker, providing a quick way to check the setup.
Updates to colour keying and other new features
Greenscreen and colour keying workflow has also been improved, with changes including a new eyedropper tool for picking the key colour from the camera view.
Other changes include the option to add shot-less cameras to a scene to provide independent previews of a 3D environment, and a new command to project 2D trackers onto 3D meshes to form new moving objects.
Pricing and availability
SynthEyes 2210 is available for Windows 10+, CentOS 7 Linux and macOS 10.13+.
New licences cost from $299 to $699, depending on whether you buy the Intro or Pro edition of the software, and for which platforms.
Read a full list of new features in SynthEyes 2210 on Andersson Technologies' website