Tuesday, September 20th, 2022

Article by Cirstyn Bech-Yagher
Review: Xencelabs Pen Tablet Medium Bundle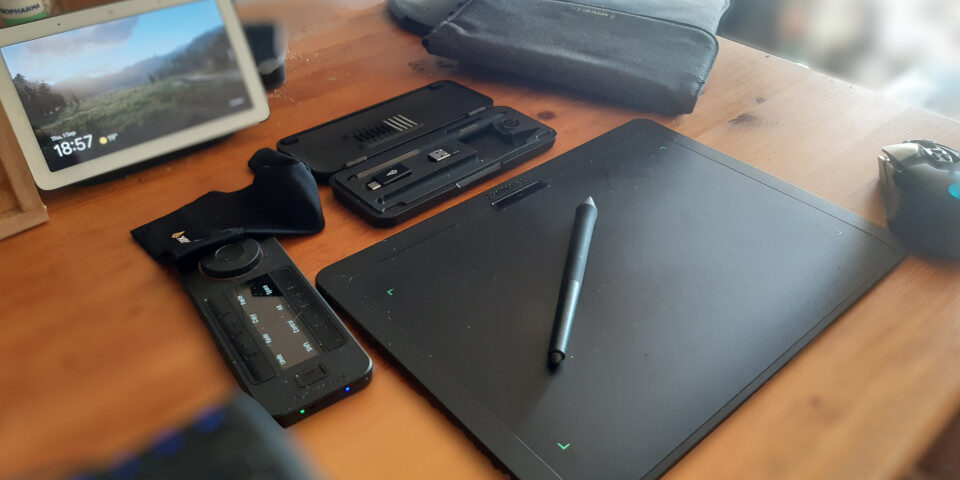 The newest rival to Wacom's Intuos Pro Medium is an intutive, well-designed graphics tablet with great driver software. Cirstyn Bech-Yagher put it through its paces with a range of 2D and 3D applications.

My first graphics tablet came from a store at Heathrow Airport last century. It was a humble blue-and-white Wacom Graphire, and I used it to bits. That cheap little tablet got me invested in more expensive Wacom products for over a decade after its demise, until Xencelabs' Pen Tablet Medium Bundle caught my eye.
Pronounced 'sense labs', Xencelabs is gaining traction in the CG community as a serious challenger to Wacom. Using artist collaborations to deliver on its promise of intuitive, non-distracting drawing tools, the company aims to create versatile and easy-to-use products, with useful and innovative features to boot.
Having had one foot in CG art and the other in software development for two decades, statements like that set my hype radar pinging. It began pinging even harder when I read Xencelabs' customer promise that its products will be "reliable, properly tested, and developed with the input of professional creatives".
Like many others, I've had countless issues over the years with dead or crashing drivers, input and Windows Ink problems, and broken promises of fixes from hardware and software vendors alike, so I was definitely curious to see whether Xencelabs would keep that promise.
What do you get in the bundle?
I opted for the Pen Tablet Medium Bundle rather than the Pen Tablet Medium alone, as it provides better value for money. It comes with a tablet, two pens, a standalone Quick Keys (QK) controller, a sleek case for the nibs and wireless dongles, a tablet sleeve, glove, and two USB cables.
How does the price compare to Wacom?
At $359.99, the whole bundle cost less than a Wacom Intuos Pro Medium ($379.95 at the time of writing), which ships with only a tablet, a pen, and nibs. Add in the cheapest Wacom Loupedeck, or buy a Loupedeck bundle, and you're looking at a total cost of $649.90 or $928.95, respectively.
How easy was the tablet to set up and use?
On unboxing the Xencelabs bundle, the first thing that struck me was the product quality, from the look and feel of the tablet itself down to the velvety innards of the sleeve, the case and cable pockets.
I installed the tablet on a Windows machine running an Asus Prime TRX40-Pro motherboard, AMD Ryzen Threadripper 3960X CPU, 64GB RAM and a Nvidia GeForce RTX 3080 GPU.
Having now used it for about four months on a messy system overdue a reinstall, I can say it'll be a long time before I go back to another tablet. Setup and driver maintenance are a snap. There have been no driver issues (dying ones included), no 16:10 to 16:9 ratio tweaking, and no Windows Ink problems. It just works.
The only issue that I have run into is when shuffling dongles for my wireless hardware: Windows won't start properly when the Quick Keys controller is plugged into the computer for charging via its USB cable, but the wireless dongle is absent. On a cold boot, the screen goes, and stays, black until you unplug the Quick Keys.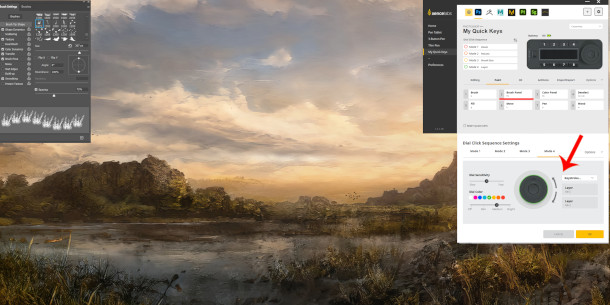 My first test of the Xencelabs Pen Tablet Medium bundle: some old-school Photoshop work. The dial on the Quick Keys controller alone is worth the swap to a Xencelabs tablet.
How good is the tablet itself?
The Xencelabs tablet comes in at 12.6 x 9.2 x 0.3 in (320 x 232 x 8 mm) and at a 16:9 aspect ratio. Although the tablet itself is narrower than an Intuos Pro Medium, the working area is somewhat bigger, and its outline is always visible thanks to the corner lights. Coming to the Xencelabs tablet from my own previous Wacom Intuos Pro L, I enjoy the thinner, flatter palm rest; it feels more natural.
Like the Intuos Pro Medium, the Xencelabs tablet has on-board buttons, but fewer of them. If you need more than three shortcuts on the tablet itself and two or three on your pen, you will either need to use your keyboard or the Quick Keys controller.
As with all hardware components in the bundle, the tablet keys are configurable, and customising them and the corner lights – which can be colour coded by software application – is easy using the Xencelabs UI.
When used wirelessly, the Xencelabs tablet runs for 16 hours on a single charge, taking 2.5 hours to reach full charge using a USB-C to USB-A cable.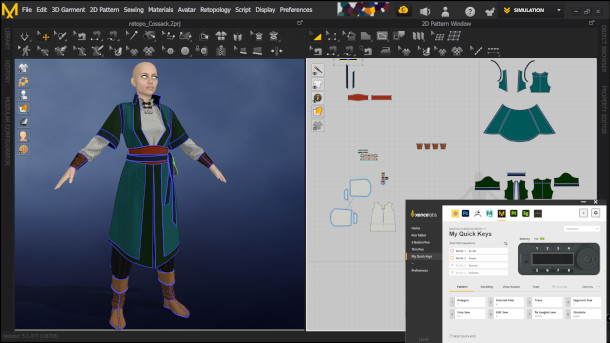 The tablet surface and pen feel very solid and comfortable, particularly when using them in line- and curve-intensive applications like Marvelous Designer or Illustrator.
How do the pens feel?
It doesn't matter how nice a tablet is if the pens aren't any good. These are. The only difference I noticed between Xencelabs' three-button pen and its Wacom equivalent is that its buttons are a little lower down.
The thinner, two-button pen feels very much like using a drafting pencil, and, used with the Quick Keys, it was ideal for pattern drawing in Photoshop or detailing in Substance 3D Painter.
As with the tablet, setting up and using the pens was a snap. The pens are highly configurable – you can adjust button, tilt and eraser settings – and as with current Wacom models, the Xencelabs tablet has 8,192 levels of pressure sensitivity. If you're coming from an older tablet, those extra levels may make the pens feel a little feathery, but again, you can tweak the settings to your liking.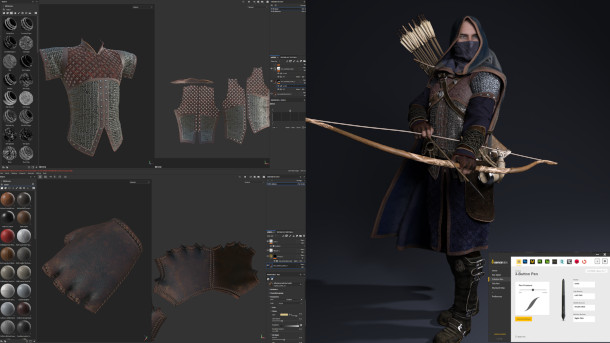 The Quick Keys controller offered a real speed-up in workflow in the applications I tested it in. I hope that down the line, Xencelabs will allow better mapping of non-shortcutted menu items to the key pad.
How good is the Quick Keys controller?
Smaller than Wacom's Loupedeck, Quick Keys is Xencelabs' take on a mini-keypad. It sports a dial with up to four settings, and eight keys that can be assigned up to five groups of shortcuts per application.
You can name, configure and turn shortcuts on or off as you please, although it may take some time and tweaking before you're in Quick Keys nirvana: when initially setting up shortcuts, the functions that I thought I used the most turned out to be quite different from the ones that I actually did.
The Quick Keys' OLED display offers horizontal and vertical views, and the wireless connection lets you put the controller anywhere you want on your desk, offering great freedom of movement.
My only niggle was that, despire the excellent UI, it would have been nice to have a proper user manual for the Quick Keys rather than the current PDF. Even though the keys and dial become second nature once you've figured them out, if it's ease of use that Xencelabs is after, more documentation would be good.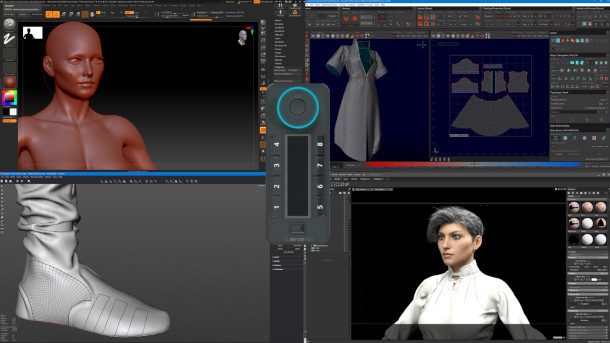 The Xencelabs kit was a real pleasure to work with across a range of 3D tasks, from digital sculpting to retopology, UV unwrapping and rendering.
The final verdict
Every time a new brand of graphics tablet comes along, it is deemed a potential Wacom killer, and Wacom staff are said to be quaking in their boots. Hardly so: they have an established market, a strong reputation, a loyal user base, and great product quality.
But they should pay attention to Xencelabs. Its products feel just as good, if not better, than the Wacom tablets that I have used, its software is infinitely better, and its prices are lower.
As a new Xencelabs convert, there are things I miss from Wacom, like their adjustable stands for their tablets and software bundle deals. But all in all, I am very happy that I made the change.
Having had it for four months, trying it with ZBrush, Marvelous Designer, the Substance 3D tools, 3ds Max (Forest Pack curves!) and TopoGun, the Xencelabs Medium Tablet Bundle has been nothing but a pleasure to use. Xencelabs really did keep its promise.

About the author: Cirstyn Bech-Yagher is a long-time CG artist with experience ranging from Rizom-Lab to AMD and Future Publishing. She is currently freelancing for old and new clients. Follow Cirstyn on Twitter.