Sunday, April 11th, 2021

Posted by Jim Thacker
Get 1,000+ free 3D models of objects from Polish museums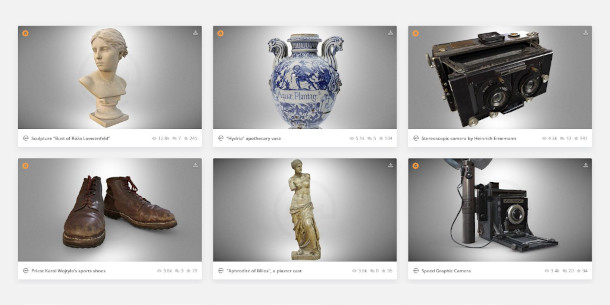 The Małopolska's Virtual Museums project has made over a thousand 3D scans of historical artefacts from Polish museums, including sculptures, household objects and parts of buildings, available on Sketchfab.
Many of the 3D models are available to download for free under a CC0 licence in standard file formats including OBJ, glTF and USDZ, with PBR textures.
Part of an extensive project to digitise objects from museums in Lesser Poland
The scans are the result of a multi-year project to digitise objects from the collections of 40 museums in the Małopolska region of Poland.
Although some could already be viewed on Sketchfab, the Małopolska's Virtual Museums project has now made its entire collection available via the site: at the time of writing, 1,077 models.
The release ties in with the launch of a new version of the project's online portal, which provides more information about the objects scanned for the online collection.
3D scans of a wide range historical objects, from art and architecture to animals
The collection includes 3D scans of real-world objects dating from the Byzantine Empire to the 20th century.
It includes sculptures and religious statues; parts of buildings; household objects like furniture and ornaments; clothing; weapons; cameras, instruments and machinery; and even taxidermy animals.
Licence conditions and system requirements
Most of the files are free to download, many under a CC0 licence, although a few use CC Attribution.
File formats vary: most are provided as OBJ files, but we also found a few FBX files and Blender scene files. Models on Sketchfab are also automatically converted to glTF and USDZ formats.
Many of the assets also have PBR textures.

Download free 3D models from the Małopolska's Virtual Museums project under a CC0 licence