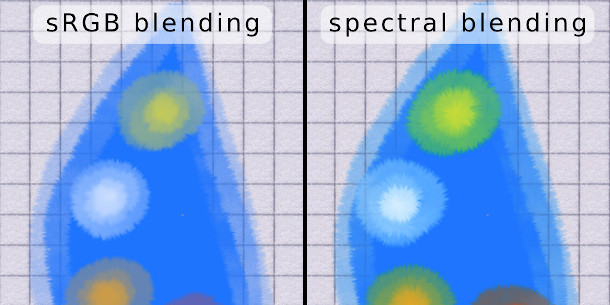 The MyPaint development team has released MyPaint 2.0, a significant update to the open-source digital painting software, and the first new stable build in three years.
The update adds support for linear compositing and spectral blending to better emulate traditional media, new symmetry painting modes, and a lot of new brush settings.
(Full disclosure: the update actually came out last month, but we didn't manage to cover it at the time.)
Restarting active development on an influential open-source painting app
First developed over 15 years ago, MyPaint is a versatile – and influential – open-source digital painting tool.
As well as having been used for concept art on several of the Blender open movies, its brush engine has been integrated into a number of other open-source graphics tools, including GIMP and OpenToonz.
In recent years, its development has stalled, with other open-source painting apps like Krita gaining a wider media profile, but has recently been resumed by a new dev team.
MyPaint 2.0: new layer blending system mimics the behaviour of real paint
The biggest change in MyPaint 2.0 is that linear compositing and spectral blending are now used by default, more accurately emulating the way that real layers of pigment blend.
The new layer-blending mode is computationally more expensive than the previous sRGB blending, and is not backwards-compatible, so it is possible to manually re-enable the old blending mode manually.
New brush settings, symmetry painting modes and floodfill properties
The release also updates the way that the rotation of the canvas affects brush strokes – essentially, it should be more intuitive – and adds a lot of new brush settings and inputs.
There are also now five symmetry painting modes, up from one in the previous release, including vertical, horizontal, rotational and 'snowflake' modes.
In addition, the floodfill tool has a range of new properties – offset, feathering, gap detection and cancellation – to help ensure that colour fills a a stroke outline more accurately.
System requirements and availability
MyPaint 2.0 is available free under a GPL licence. Compiled builds are available for Windows and Linux.
Read more about the new features in MyPaint 2.0 on the product website
Download the latest build of MyPaint (Links are at the foot of the changelog)
Tags: brush engine, brush properties, Concept Art, digital painting, download, floodfill, free, Gimp, illustration, Krita, layer blending, linear compositing, MyPaint, MyPaint 2.0, new features, open source, OpenToonz, pigment blending, spectral blending, sRGB blending, symmetry painting, system requirements