Friday, April 6th, 2018

Posted by Jim Thacker
Autodesk ships Flame 2019

Originally posted on 6 April 2018. Scroll down for news of the final release.
Autodesk has announced Flame 2019, the next update to its compositing and effects software, adding new features geared towards grading and look development work.
The update will go on show at NAB 2018 next week.
Crossing boundaries between effects and grading
Flame family product manager Will Harris describes the aim of the update as making Flame "the artist's tool of choice … for the multi-disciplinary challenge of finishing".
In practice, that seems to mean encouraging artists to stay within Flame for colour grading, rather than switching to a dedicated application like Lustre, Flame's sister product.
Although Harris was careful not to present Flame as a straight replacement for Lustre, that looks to be the intention, at least for shorter, lower-resolution projects.
Autodesk continues to recommend Lustre, which is still being "actively developed", for long-form work, due to its specialised features like Grade Bins and support for hardware control surfaces.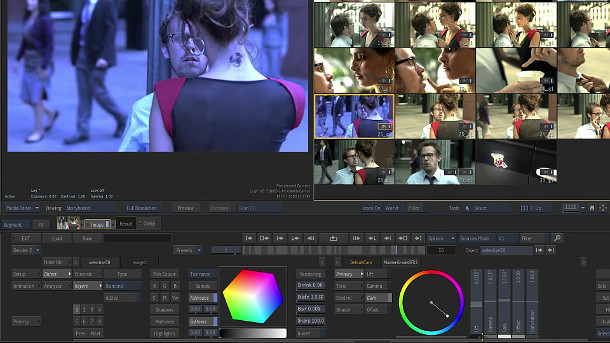 New Effects tab provides a dedicated environment for grading and look dev work
The headline feature in Flame 2019 is the new Effects tab, described as a "creative, iterative environment" for grading, look development and effects work.
It provides a focused environment in which to work, consisting of a storyboard view of the project, controls for the active tool, and the image itself: you can see the workflow in the video attached to this tweet.
The Effects tab is powered by the Image node, designed to enable artists to review and update effects in real time, without the need to dive back into the underlying graph.
Harris describes it as being like a "daughter of the Action node", but focused on look dev work.
The Image node will be available both in the timeline, where it will accept a single source input, and in the Batch view, where it will accept multiple image sources.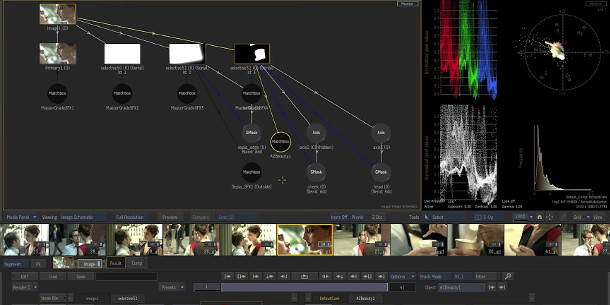 New Matchbox-based MasterGrade tool for colour grading
The update also adds a new MasterGrade tool, derived from Flame's Matchbox shader system – in the video above, Harris describes it as a "mega-Matchbox for colour".
It provides a non-linear workflow for grading, and works in video, linear and log modes.
To faciliate grading work, Flame's Waveform scopes now support HDR and – if we've understood correctly what Harris is saying in the video below – Wide Color Gamut (WCG)
New CreativeFX tools for look dev work
There is also a new set of tools for look dev work, which you can see in the video attached to this tweet.
They include new Matchbox shaders A2Beauty and Washer, intended for clean-up and beauty work on footage of human skin, the fairly self-descriptive PhysicalGlareSFX, and new Bokeh effects.

Better handling of node graphs and real-time playback
Under the hood, the way that Flame handles node graphs has been updated, with changes made through contextual menus now automatically adding multiple nodes to an underlying graph.
Harris describes the workflow, which debuted in the Action Selective system in Flame 2018.3, as "macro-ising" the process of adding nodes, making it possible to "get a lot done without looking at the Schematic".
Playback has also been revamped, and now uses a staged rendering process.
Described by Harris as being "like a layered caching system", it enables artists to fix a quality level for any timeline effect, than have subsequent effects render in real time on top of it.
The new system should make it possible to see a workable interactive preview of effects that were previously too computationally expensive to render in real time.

Updated 16 April 2018: Flame 2019 is now available. At the time of posting, there are still a few references to Flame 2018 on the product website, but the online documentation and trial edition have been updated.
As well as the features covered above, the release adds Motion Warp tracking to the GMask Tracer tool, and a new Freeze mode for Motion Warp within Action.
As well as the new high dynamic range options for waveform displays, the update adds four new vectorscopes: Dolby CtCp, CIELAB a*b*, CIELUV u*v* and CIE xy.
Other changes include improved support for AAF files and colour metadata, and a number of new media import options, including GPU debayering of RED and ARRIRAW files on macOS as well as Linux.

Pricing and availability
Flame 2019 is available for CentOS 7.2/7.4 Linux and Mac OS X 10.11+. It is available on a rental-only basis, with subscriptions now priced at $515/month or $4,100/year.
Flame Assist and Flare, the cut-down editions of the software for specialist tasks, now cost $2,190/year. Lustre, the remaining member of the Flame product family, is priced on enquiry.

Read a full list of new features in Flame 2019 in the online changelog
See more videos of the new features in Flame 2019 on Autodesk's YouTube channel