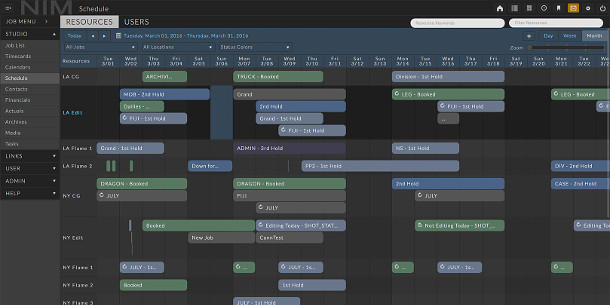 NIM Labs has released NIM 2.8, the latest version of its studio management platform, adding support for studio-wide media browsing, and removing some of the previous format restrictions when viewing dailies.
A locally installed alternative to cloud-based production-management systems
Developed in house at LA post facility Ntropic, NIM is intended to provide a locally installed alternative to cloud-based production management platforms.
Although users view and manage jobs within a standard web browser, the system is supplied as a virtual machine that can be installed behind a company's firewall.
It provides a fairly standard range of scheduling, production tracking and shot review features, plus more specialised features for timecard management, bidding jobs, and financial projections.
Users include VFX houses Digital Domain and Zoic Studios, and commercials specialist Taylor James.
New in NIM 2.8: studio-wide media browsing, view dailies in MP4 format without re-encoding
New features in NIM 2.8 include the power to view every media item logged across all jobs, with options to group them by job, type or the artist assigned to the work.
The software's scheduler UI has also been updated to make it easier to visualise many events at once, including a new option to zoom in or out of the display.
NIM Labs has also relaxed the restrictions when viewing dailies: whereas movies uploaded in MP4 format used to be re-encoded as OGV or WEBM files, they can now be played directly, cutting server overheads.
The same applies to movies below NIM's maximum image width and height: properties that can also now be defined using NIM's administrative tools.
Other changes include new filtering options when browsing artists' timecards, more options when exporting financial data as Excel spreadsheets, and enhancements to the software's API.
Pricing and availability
NIM is delivered as a preconfigured Ubuntu Server virtual appliance. Users can use virtualisation tools like VirtualBox or vSphere to run the virtual machine on Windows, other flavours of Linux, and Mac OS X.
Pricing starts from $40/user/month. The 2.8 update is free to existing users.
Read a full list of new features in NIM 2.8 on NIM Labs' blog
Tags: bidding, browser based, dailies, financial analysis, financial projection, locally installed, new features, NIM, NIM 2.8, NIM Labs, Ntropic, price, production tracking, shot review, studio management, system requirements