Monday, October 16th, 2017

Posted by Jim Thacker
Review: Dell Canvas 27-inch pen display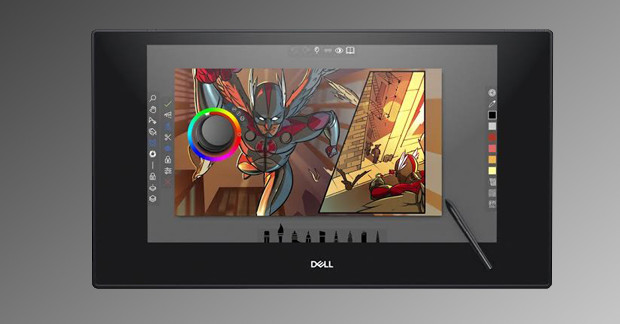 Dell's new 27-inch pen display promises the previously unattainable dream of professional drawing quality at affordable prices. Fernando Caire assesses how this would-be Cintiq killer stacks up to Wacom's hardware.

When it comes to pen displays, artists are left with few options besides Wacom's popular Cintiq line-up – which can be a problem, since its premium products are outside many people's price range.
While Microsoft and Huion have tried to compete, with varying degrees of success, so far no one has managed to achieve the same responsiveness and build quality that Wacom users have become used to.
Which is why Dell would like to introduce you to its new 27-inch drawing tablet, the Dell Canvas.
When the Canvas was announced at CES 2017, artists were curious, but still sceptical. It looks just like a Cintiq 27QHD touch, and has nearly identical features, but costs $600 less? Surely there must be a catch!
Well, there is – but I'll get back to that later.

The display
Out of its box, the Canvas is massive, but surprisingly slim, at around an inch (23mm) in maximum thickness.
It comes with everything you need to get up and running with minimal fuss, including almost every cable imaginable: USB-C, Mini DisplayPort, MiniDP to standard DisplayPort, USB-C to standard USB, and HDMI.
The right edge of the Canvas itself features two standard USB 3.0 ports, a USB-C port, and a headphone jack. Sadly, if you're a photographer hoping for an SD card slot, you're out of luck.
The rear edge has Mini DisplayPort, Mini HDMI and a further USB-C port, to connect to an external display.
This is, every inch, a premium product that delivers on its promise to be a high-end digital tool for artists of all kinds. Drawing on the Gorilla Glass, which goes edge to edge, reminded me of drawing on smooth animation paper, and with 27 inches (690mm) of diagonal space, it felt great to be able to use my entire shoulder.
At a resolution of 2,560 x 1,440px with an output of over a billion colors – 100% of the Adobe RGB colour gamut – it is also a vibrant, crisp, visually stunning display.
The touch control is responsive and I experienced no jitter when pinch-zooming or rotating the image.
The Canvas also features 20-point touch, meaning that two sets of hands can control it at once. And if touch control isn't your thing, there is a physical button that will instantly turn it off.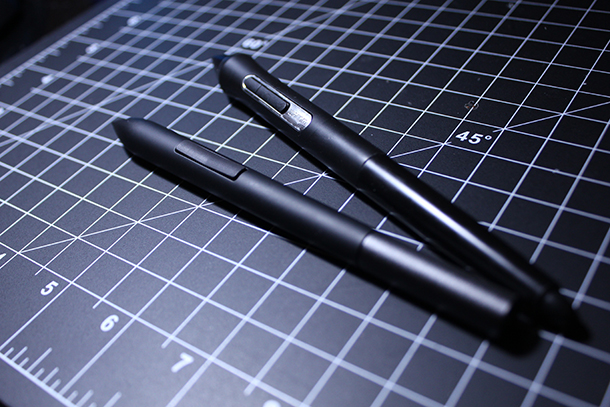 The Canvas Pen (below) and the Wacom Pro Pen 2. The Canvas Pen's larger buttons make it easier to use.

The pen
The Canvas Pen features Wacom's EMR (Electro-Magnetic Resonance) stylus technology, so in theory, it should draw just as well as any Cintiq, with 2,048 levels of pressure sensitivity. It also has tilt support.
In use, it feels light, but solid, and the two programmable buttons on the side are larger than the ones on a Wacom stylus, making them much easier to use. This is a great pen design: simple, professional, and comfortable in the hand. The only complaint I have about it is that it lacks a built-in eraser.
It also comes with a pen holder, which contains six additional nibs. I never used it. The built-in magnet attaches the pen firmly to either top corner of the display, and I found that there was something oddly satisfying about snapping it, almost instinctively, to the edge of the device once you stop drawing.
However, the bare-bones software the pen comes with leaves much to be desired: particularly the firmness-to-softness adjustment tool. Being heavy-handed, I normally set the firmness high, but even on the Canvas's maximum firmess setting, it still felt like my strokes were too heavy when applying average pressure.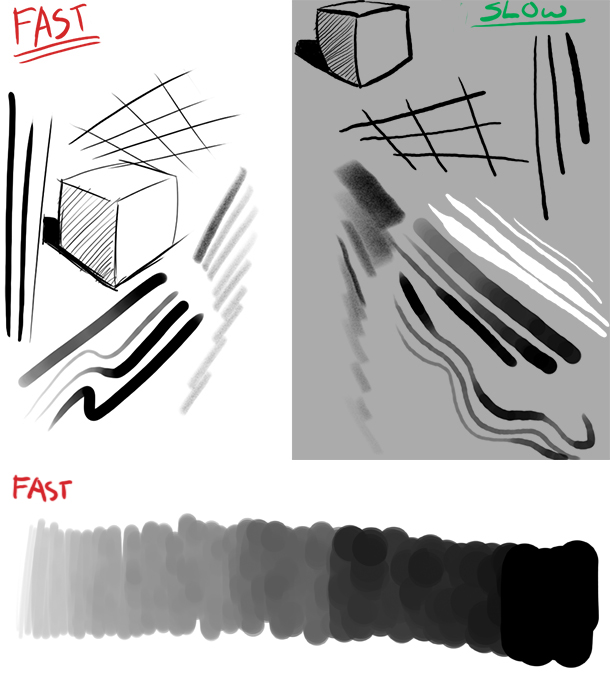 Fast vs slow drawing with the Canvas Pen. Note the 'hiccups' in the gradient at the foot of the image.

When drawing, there is virtually no parallax between the pen tip and the display surface. Combined with a snappy response rate and minimal lag, it makes for a smooth experience – at least when drawing quickly.
Unfortunately, when I tried to draw a straight line slowly, it came out jittery. This could be a serious issue for anyone who likes to take their time drawing details. (To make sure it wasn't just me, I tried the same test on a Wacom MobileStudio Pro. The line came out perfectly.)
I also noticed that brushes with opacity affected by pressure do not transition well from slow to fast strokes. When making fast strokes, gradually increasing the pressure can result in noticeable visual 'hiccups', as you can see at the bottom of the image above. This is especially disappointing for digital illustrators, who need smooth transitions when using these types of brushes.
Without these flaws, I would easily be able to say that the Canvas Pen is the best stylus I've ever used. Even with them, it's still good, but you will need to see if it suits your own drawing style.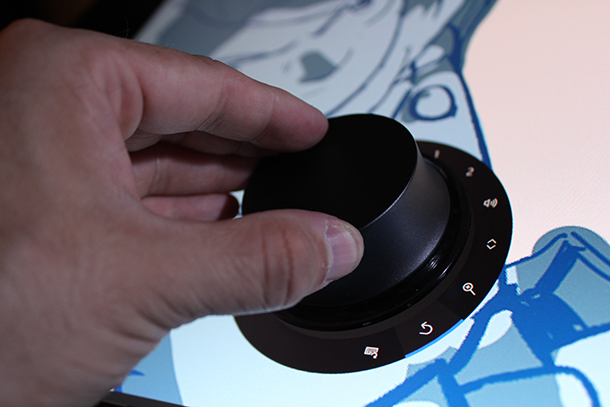 The 'Dial totem': the Canvas's additional control device. It works, but it may be an acquired taste.

The totem
The Canvas also comes with an accessory called the 'Dial totem'. It's a round knob that you can activate by pressing it against the screen to bring up a radial menu. You can customize this to do almost anything, with different settings for each program the Canvas supports. It should work with pretty much any software, graphics-related or otherwise, since it essentially just activates pre-programmed keystrokes.
Personally, I found it more impressive in concept than in practice. It worked exactly as it should: I just didn't have much use for it beyond adjusting my brush size or scrolling swiftly through undo and redo functions. It may be more useful to artists working in other areas, like animation or video editing.

The final verdict
I have pointed out parallels between Dell and Wacom throughout this review because the Dell Canvas is clearly influenced by Wacom's Cintiq range. However, Dell's goal was not to copy the Cintiq, but to offer a unique, premium, art experience at an affordable price. Does it succeed?
Yes. Mostly.
The Canvas's biggest flaw is that it can only be used on machines running Windows 10. It is unclear why such an impressive tool has to suffer from such a limitation, but it's probably a deal-breaker for Mac users.
But for Windows users, the Canvas is a magnificent accessory. As a 'Cintiq killer', it is hands down the best, and most reasonably priced, alternative to a Wacom pen display.
At the time of posting, the Cintiq 27QHD touch costs $2,399.95. The Dell Canvas costs $1,799. Even if you really need conventional hotkeys and buy Wacom's ExpressKey Remote – which should also be compatible with the Canvas, although I don't have one on hand to test – for $99.95, that's still a saving of over $500.
Dell has undoubtedly poured a great deal of effort into the development of the Canvas, and – if the issues with pen pressure and settings can be fixed in a future update – I think it has the potential to make one of the best artists' tools imaginable. For now, this is a solid first step.
Find more information about the Dell Canvas on the official product website

About the authorFernando Caire was born in Los Angeles and raised on a healthy dose of horror, science fiction and Ninja Turtles. A freelance illustrator and writer, cartoons, monsters, and comics still remain his passion while he pursues a career in storyboarding for animation. Visit Fernando's website