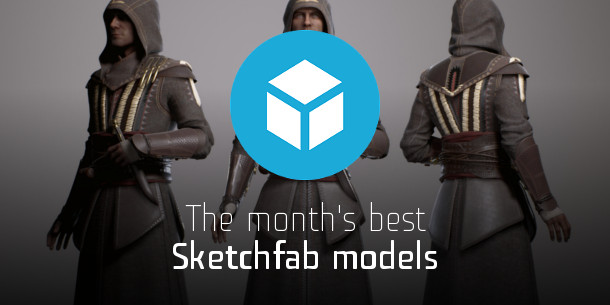 Sketchfab provides a simple way for anyone to publish and share their 3D models online. To celebrate the best in real-time 3D art, we asked the Sketchfab team to pick the 10 greatest models on the site this month.
To interact with a model in 3D, click the large Play icon in the centre of the frame.
To find out more about a model, click the small Sketchfab logo on the bottom left of the frame.
Aguilar De Nerha Posed by Bao Vu
76.4k faces
See a breakdown in Bao's ArtStation gallery. You can download the model free for non-commercial use.
Support Highpoly by Marleen Vijgen
635.2k faces
See more renders of the character in Marleen's ArtStation gallery.
The Long Journey Home / Serenity by schmoldt.art
129.7k faces
Dark Town by OlegTaiuk
26.3k faces, animated
A model created for Eon Games.
Old man by Dmitriy Dryzhak
30.1k faces
See more renders in Dmitriy's ArtStation gallery.
Starfall Tactics — Eureka Eclipse b.cruiser by Snowforged Entertainment
6.8k faces
A ship model from Snowforged Entertainment's real-time PC wargame Starfall Tactics.
Naga Armor by Astlast
38.0k faces
Killa Kan Walk Animation by Sladegeorg
31.9k faces, animated
Siege for the Bakery by Nic Belliard
21.8k faces

Want to vote for a model of the month? Just Like your favourites on the Sketchfab site, or upload your own!
Tags: best 3D models, best real-time models, download, June 2017, models of the month, real time, Sketchfab