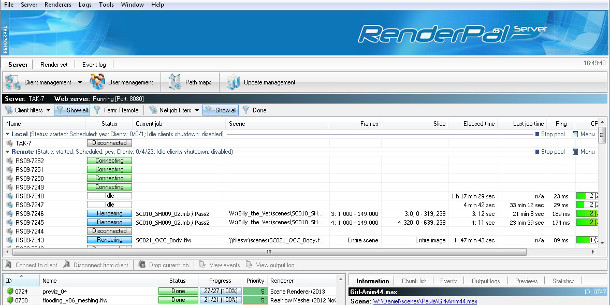 RenderPal's main view. The 2.14 update to Shoran Software's renderfarm management system adds the option to assign individual default settings to each renderer you use, plus support for Rhino, Thea Render and Redshift.

Shoran Software has released RenderPal V2 2.14, the latest update to its renderfarm-management software, adding the option to set individual defaults for different renderers.
New in version 2.14: per-renderer default settings
RenderPal provides a range of job automation and troubleshooting tools, and supports a wide range of standard DCC apps, renderers and compositing packages out of the box.
That list now includes Rhino, Thea Render and the increasingly important Redshift renderer; while new features include the options to set defaults individually for each renderer.
Other changes include a revamped UI for the existing render settings, and support for wildcard characters when setting file paths for output. You can read a full list via the link below.
Black cats, broken mirrors and ravens not included
Interesting factoid: the update is the first proper release since RenderPal V2 2.12, the developers having skipped 2.13 for "superstitious reasons".
While there was a 2.13 release, it consisted mainly of bugfixes.
Pricing and availability
RenderPal V2 2.14 is available for Windows Vista and above, Mac OS X 10.4 and above and Linux.
Users need one node licence per node in the render farm, regardless of CPU cores. Individual node licences cost €49 (around $55), or a site-wide licence costs €1,799 ($2,005).

Read a full list of new features in RenderPal V2 2.14
Tags: individual defaults, new features, per-renderer defaults, price, Redshift, render management, renderfarm management, RenderPal, RenderPal 2.14, Rhino, Shoran Software, Thea Render