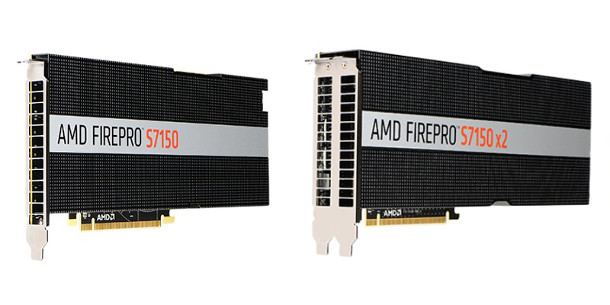 AMD has unveiled its new FirePro S7150 and S7150 x2 GPUs, the first of its S-Series line of server graphics cards to feature its new Multiuser GPU (MxGPU) technology.
The cards are aimed at studios wanting to increase their GPU computing capabilities more cost-effectively than upgrading each individual artist's workstation, by providing shared access to GPUs in a central server.
A new rival to Nvidia's GRID technology
The new FirePros take AMD into territory previously only occupied by Nvidia and its GRID platform.
AMD describes the new cards as "the world's first hardware virtualized GPU products", characterising GRID as a software-based solution: a claim explored in this interesting article on ExtremeTech.
Similar specs to the FirePro W7100, but for multiple users
AMD's MxGPU technology enables multiple users to access each card simultaneously: 16 in the case of the FirePro S7150, and 32 with the FirePro S7150 x2.
In terms of hardware specs, the S7150 is broadly comparable to the FirePro W7100, AMD's mid-to-high-end workstation GPU, offering 3.77 Tflops of peak single-precision GPU compute performance.
Like the W7100, the S7150 features 8GB of GDDR5 graphics RAM, with a 256-bit memory bandwidth.
The double-slot S7150 x2 also doubles those specs, providing 7.54 Tflops of single-precision peak floating-point performance and 16GB GDDR5 RAM.
Both new cards use AMD's current-gen Graphics Core Next (GCN) architecture, and support OpenCL 2.0.
Pricing and availability
AMD's FirePro S7150 and S7150 x2 GPUs will become available via server vendors "in the first half of 2016".
AMD's news release doesn't list recommended prices, but they're widely reported to be $2,399 for the S7150 – roughly four times the current street price of the W7100 – and $3,999 for the S7150 x2.
Read AMD's official news announcement of the FirePro S7150 and S7150 x2 server graphics cards
Tags: AMD, FirePro, FirePro S7150, FirePro S7150 x2, FirePro W7100, GCN, GPU compute performance, GPU virtualization, graphics card, graphics RAM, grid, Multiuser GPU, MxGPU, Nvida, OpenCL 2.0, price, S-Series, server GPU, server graphics card, simultaneous users, specifications, specs