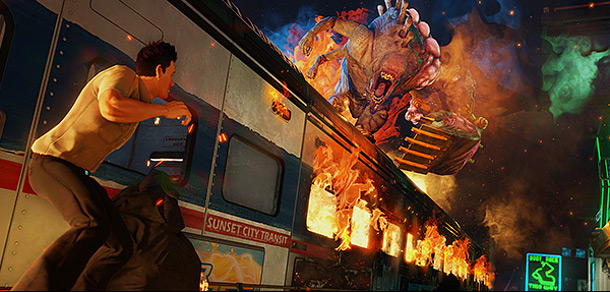 Sunset Overdrive puts the fun back into surviving the mutant apocalypse. Game Informer described the art style of Insomniac Games' Xbox One third-person shooter as resembling a post-apocalyptic Sesame Street, while Joystiq praised it for providing the player with a "treasure chest full of costumes and jokes".
Next week, you can discover exactly how those treasures were created, as the Gnomon School of Visual Effects plays host to The Making of Sunset Overdrive: a free event hosted by key Insomniac art staff, including art director Jacinda Chew, animation director Robert Coddington and senior FX artist Seth Faske.
The two-hour session explores the design, animation and effects in the game, and culminates with a discussion panel.
The Making of Sunset Overdrive takes place at Gnomon's Hollywood headquarters from 7.30-9.30pm on Thursday 4 December. Entry is free, but seating is available on a first-come, first-served basis.
Read more about the event on Gnomon's website (Includes directions to the venue)
Full disclosure: CG Channel is owned by the Gnomon School of Visual Effects
Tags: discussion, event, free, Gnomon, Insomniac Games, Jacinda Chew, presentation, Robert Coddington, Seth Faske, Sunset Overdrive, talk, The Gnomon School of Visual Effects, The Making of Sunset Overdrive