Friday, May 16th, 2014

Posted by Jim Thacker
How to spot a bad HDRI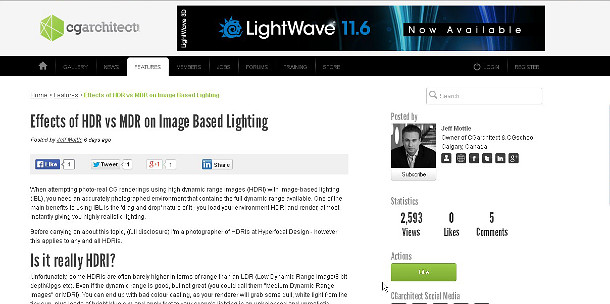 Jay Weston's article on CGarchitect explains how to spot – and fix – poor-quality HDRIs. Read it in full here.
Originally posted on 16 December 2013. Scroll down for updates.
CGarchitect has posted a great article by Hyperfocal Design founder Jay Weston on how to spot duff HDRIs – and how to fix them when you do.
Weston, who speaks with the experience of someone who photographs these things for a living, notes that many HDRI files are barely higher than standard LDR images in terms of dynamic range.
Such files, which he terms 'MDRIs', or 'Medium Dynamic Range Images', cause colour casting and muddy-looking results when used in image-based lighting set-ups.
Weston goes on to explain how you can spot an MDRI, and two simple tricks you can use to 'fix' any that you find.
We won't steal CGarchitect's thunder by revealing what they are: the full article only takes five minutes to read, and it's well worth it. You can find it via the link below.
Read Jay Weston's article on spotting and fixing bad HDRIs on CGarchitect
Updated 16 May 2014: Jay Weston has just posted a 10-minute video demonstrating the differences between true HDRIs and MDRIs in more detail. You can see it above in full.