Thursday, May 23rd, 2013

Posted by Jim Thacker
Escape Motions releases Flame Painter 2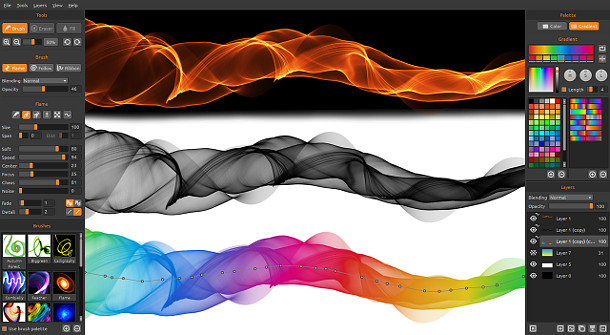 Flame Painter 2's new 'normal' painting mode (bottom of screenshot) supplements the software's existing Lighten and Darken modes, providing artists used to other paint tools with a more familiar way to create images.
Escape Motions – aka developer Peter Blaškovič – has released Flame Painter 2, an update to its unique digital painting tool, which enables artists to create images with 'flame brushes'.
For such a quirky tool, Flame Painter is capable of quite a range of output, from adding light trails to photographs to creating abstract backgrounds and images reminiscent of ink-and-wash drawings.
New features, new Personal and Professional editions
New features in Flame Painter 2 include a customizable UI with dockable tool palettes, a new 'normal' mode for painting in colour in a way more like that of other digital paint software, and a fullscreen mode.
The software has also been split into Personal and Professional editions, the latter also supporting improved antialiasing, unlimited layers and – significantly – the option to paint flame strokes as editable vectors.
Flame Painter 2 is available now for Windows and Mac OS X. The Personal edition costs $29.99 and the Professional edition costs $59.99. The limited-resolution online version remains free.
Read more about the new features of Flame Painter 2 on the Escape Motions blog
Visit the Flame Painter website
(Includes download link for the limited-resolution trial version)