Thursday, May 16th, 2013

Posted by Jim Thacker
14,000 petition Adobe to revive the Creative Suites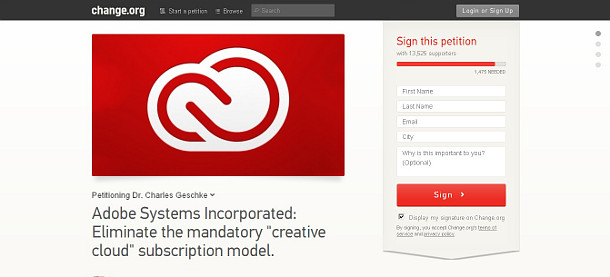 Almost 14,000 people have signed a petition calling on Adobe to reinstate development of its Creative Suites following the developer's decision to can perpetual licences of its software in favour of online subscriptions.
The petition, launched by student Derek Schoffstall on the campaign website Change.org, is addressed to senior Adobe executives including CEO Shantanu Narayen, and has 13,897 signatures at the time of posting.
So what caused all the fuss?
Adobe announced last week that Photoshop CS6, After Effects CS6 and their sister products will be the final releases under the Creative Suite brand.
When the new versions of the software go on sale in June, they will require monthly or annual subscriptions to Adobe's Creative Cloud. For new users, prices start at $19.99 per month for a single app, or $49.99 per month for access to all the creative products. Cancel your membership, and the tools stop working after three months.
Conventional licences of the CS6 tools will remain available for the immediate future, but Adobe says that it "do[es] not have any current plans to release future CC tools outside Creative Cloud".
So why are users upset?
The announcement has divided Adobe's user base. Although those who own many Adobe products and upgrade regularly stand to save money, those who own few products or upgrade infrequently do not.
Schoffstall's petition calls upon Adobe to retain its current licence model, in which individual creative products can be licensed in perpetuity, for the sake of these users:
"Do it for the freelancers. For the small businesses. For the average consumer. For the people who use your products on an inconsistent basis."
Those signing the petition cite increased annual costs, the lack of an alternative licensing model, and Adobe's perceived abuse of its dominant market position as causes of complaint.
One fairly typical comment reads: "$600+ a year forever, and you don't get to keep it if you decide to stop using it? Not okay."
So does this really matter to Adobe?
For its part, Adobe has told CNET that the feedback it received prior to last week's announcement skewed "overwhelmingly" in favour of a subscription model.
And indeed, 15,000 signatures represents only a tiny fraction of the reported 12.8 million users of the developer's creative tools.
It is, however, an angry and vocal fraction. It will be interesting to see if Adobe feels that it is angry or vocal enough to consider revising its licensing policy.
Read the petition on Change.org
Read an analysis of the relative costs of Creative Cloud subscriptions and the old Creative Suites
(Note: assumes that you currently buy every upgrade Adobe releases)