Wednesday, April 24th, 2013

Posted by Jim Thacker
Andersson Technologies ships SynthEyes for Linux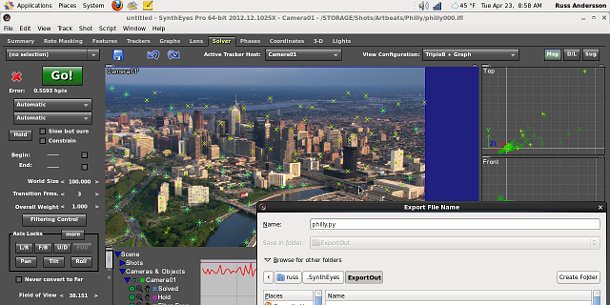 Andersson Technologies has released SynthEyes, its affordable 3D camera-tracking software, on Linux.
Company founder Russell Andersson says: "We've had more and more interest in Linux as VFX studios look to upgrade older equipment and shift their entire production pipeline onto a common operating-system platform.
"Studios value the control they can achieve with a Linux configuration, emphasizing workstation productivity, versus the increasingly consumer-centric focus of Windows and OS X."
Accordingly, the Linux version is designed to work with enterprise-class solutions – RHEL/CentOS 6 and Ubuntu 12.04 LTS – though it should also run on common distros like Debian, Fedora, Mint and openSUSE.
Slightly pricier than existing editions
SynthEyes Pro for Linux costs $699: $100 more than the Windows or Mac versions. A cross-platform license, which enables a user to install SynthEyes on a second machine with a different OS, costs $799.
Users can also upgrade from previous Windows or Mac OS X builds of SynthEyes to the new Linux version. As yet, there's no Linux version of the Intro edition of the software, aimed at students and hobbyists.
Read the official press announcement on the SynthEyes website
Download the demo version of SynthEyes for Linux (Registration required)