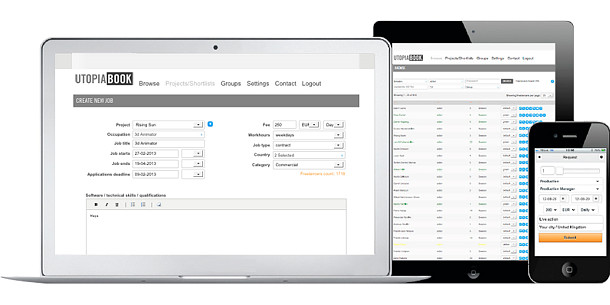 Swedish firm UtopiaPeople has launched UtopiaBook, an international online agency for VFX freelancers.
The cloud-based service, which has already built some momentum in its native Scandinavia, "works simultaneously as a booking tool, as well as a management and organizational hub".
Registration is free for individual freelancers, enabling you to build a basic profile in minutes.
Early days, but looking promising
When we took a look, there were a few rough edges (not all of the text had been 'Englished' quite correctly), but the basic mechanics seem sound.
Users can select a base industry sector (film, commercials, TV or games) and choose from around 100 standard job types, link to a YouTube or Vimeo reel, and upload a resume and short personal statement.
Studios pay from €250 to 1000 (around $325 to $1,300) for access to the freelance database.
At the minute, the companies that have registered with the site are largely Scandinavian and German, including a few well-known names such as RISE and Ghost, plus large broadcasters such as Viasat.
Tags: 3d, agency, art, free, freelance, game, global, international, jobs, post-production, pre-viz, programming, reel, resume, TV, UtopiaBook, UtopiaPeople, vfx, visual effects