Thursday, January 6th, 2011

Posted by Jim Thacker
cgCoach.com offers pro feedback on demo reels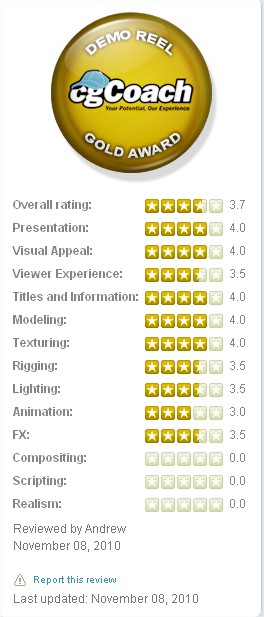 cgCoach.com has redesigned its website, offering users the opportunity to receive free structured feedback on their demo reels from working professionals.
Anyone registering on the site can now upload a reel to cgCoach.com's Professional Feedback service, receiving a written analysis of strengths and weak points, and numerical scores in 13 separate criteria, ranging from presentation and titles and information to specific technical skills.
Coaches providing feedback on reels include staff at Weta Digital, DreamWorks, Sony Pictures Imageworks and MPC.
Other material, including stills and videos, can be uploaded to the site's Public Feedback area, which uses a similar grading system, but opens up feedback to a wider user community.
The site, which was co-founded by Animal Logic's modelling supervisor Andrew McDonald and Double Negative senior texture artist Alwyn Hunt, is intended to provide young artists with more practical criticism of their work than can usually be obtained on forums.
"Comments like 'great work or '5 stars!' are helpful encouragement, but they rarely help challenge or guide an artist's technique," says McDonald.
The duo also aim to launch a sister 'cgCoach PLUS' site later this year, intended to offer one-to-one coaching and partnership services with schools and colleges.