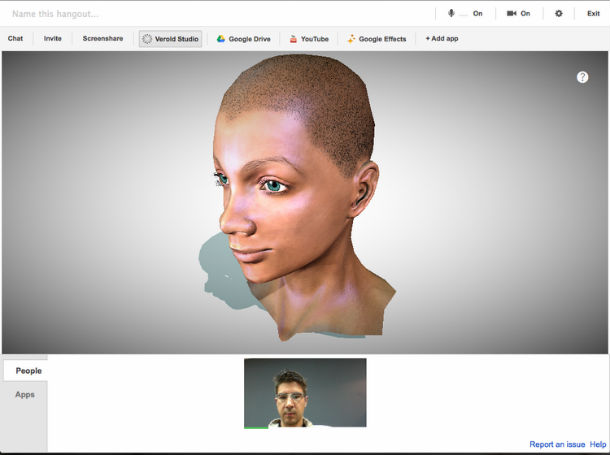 An online review of a 3D model via Verold Studio and Google+ Hangouts.
Verold has added support for Google+ Hangouts to Verold Studio, its online platform for sharing 3D assets.
Verold Studio enables users to upload OBJ, FBX and Collada files and display them interactively online. The system comes with built-in collaboration tools for reviewing models.
Interactive online design reviews
With the addition of support for Google+ Hangouts, up to 10 collaborators may be invited to a videoconference to discuss changes necessary. Assets can be viewed in a variety of display modes, including wireframe and normals.
Models may now also be displayed interactively on portfolio site Behance, as well in blogs and or forum posts
Sign up for a webinar to find out more
Verold is also running two free webinars for potential users. The first takes place today, Friday 23 November, from 12.00-13.00 EST, and the second takes place at the same time next Wednesday, 28 November.
Both are capped at 25 places, so register while you can.
Verold Studio may be used for free to create up to three projects. The Pro version of the service costs $6.99 per month, or $59.99 per year.
Read more about using Verold Studio with Google+ Hangouts
Register for the Verold Studio webinars (Scroll down for a link to the second webinar)
Visit the Verold Studio website
Tags: asset, Behance, collaboration, design review, display, Google+ Hangouts, model, online, Review, sharing, Verold, Verold Studio, videoconference, videoconferencing