Thursday, February 23rd, 2012

Posted by Jim Thacker
SpeedTree product line adds support for Cinema 4D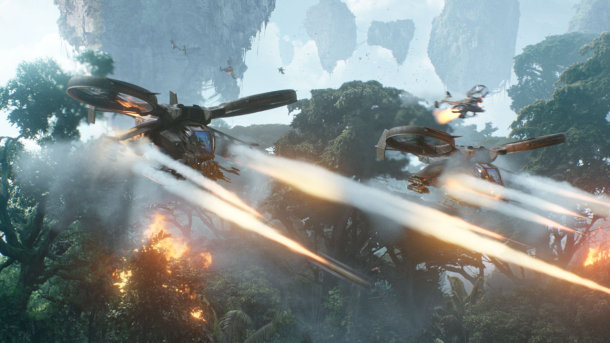 Industrial Light & Magic used the SpeedTree Cinema software on Avatar to generate the trees on the planet Pandora. The latest release adds direct support for Maxon's Cinema 4D.
IDV has updated its SpeedTree product line to add direct support for Cinema 4D. The few functionality is available in SpeedTree Studio 6.1.1 and SpeedTree Cinema 6.1.1.
The vegetation-generation system, used in the VFX work for Avatar, previously exported geometry in standard file formats including OBJ and FBX – the latter of which has now been augmented by a new custom Maya plugin.
The updates also include a number of other new features and performance boosts: full details below.
SpeedTree Studio costs $895 for a node-locked licence, while the Cinema edition costs $4,995. Both are available for Windows, Mac OS X and Linux.
PRESS RELEASE (Excerpts)
Interactive Data Visualization, Inc. (IDV), developers of real-time three-dimensional applications, is pleased to announce today that new versions of its flagship line of vegetation generating products — SpeedTree® Studio 6.1.1 and SpeedTree® Cinema 6.1.1 — now offer direct support for CINEMA 4D, the industry-leading 3D motion graphics, visual effects, painting, and rendering software application. CINEMA 4D artists working in a variety of industries including film, games, architectural and industrial design, will benefit from SpeedTree's unprecedented real-time speed and precision in the design of virtual trees and plants.
The new version, available at www.speedtree.com for trial and license, also includes:
Maya FBX Plug-In
Trees exported as FBX files are now fully supported in Maya through a new custom plug-in. Imported trees are faithfully interpreted for use by any of Maya's native renderers, including mental ray®.
Exporting
Unwrapped models with texture generation, 64-bit support, faster wind computation, mesh optimization, fewer branch seams, multiple point cache improvements, and camera-facing leaf support.
Improved GUI
New navigation options, background image support, and viewport rendering options.
Branch Intersection Blending
Blends textures seamlessly between branches and trunks, making for a much more natural intersection.
Significant Performance Increases
Models compute up to six times faster, mesh crawling algorithm up to three times faster and leaf collision speeds up to 35 times faster. These improvements, combined with GUI and collection optimizations, make for an even more interactive experience.
"We've received many requests for direct CINEMA 4D export and we're very pleased to deliver this feature now," said IDV President Michael Sechrest. "CINEMA 4D support, coupled with performance, GUI and exporting enhancements should bring SpeedTree users a vastly improved experience."