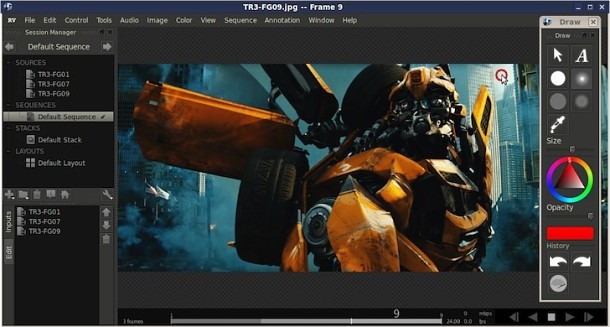 ILM used shot-review tool RV on the latest Transformers movie. A new version will go on show at Siggraph.
Tweak Software is to preview RV 3.12 at Siggraph 2012.
The new release of the high-performance image and sequence viewing tool, in use at Weta, ILM and Tippett Studio, includes a number of incremental features, including support for ARRI Alexa and RED RAW formats, and for playback on stereo 3D TVs.
There isn't a lot else – but, in truth, it's a shot review tool, and it just works. What else do you need?
PRESS RELEASE (Excerpts)
Tweak Software will be previewing the newest features for its RV image and sequence viewer for VFX and animation artists at SIGGRAPH 2011. The company will unveil RV 3.12, which includes support for ARRI Alexa and RED formats, cost-effective stereo reviews using 3D TVs and a host of new features, and will also be demonstrating Python scripting for RV in booth #963.
?RV has a dual personality. It's a tool for artists who want refined, elegant way to work with images and it is also a customizable platform for facilities who need to integrate image review with their own tools and pipeline," said Seth Rosenthal, co-founder of Tweak Software. "This release will have some great artist tools and will expand RV's customization options with Python and Javascript-based web integration."
RV's role as the leading customizable playback platform gets a major advancement with two powerful new tools for extending and integrating RV. First, Python will be added RV as a native scripting language (alongside Mu). Second, RV can now be integrated tightly with web based tools; web pages opened inside of RV can control RV through Javascript. Both new integration techniques will be shown at SIGGRAPH.
Leading VFX and CG animation studios including Digital Domain, Aardman, ILM, Zoic Studios and many others use RV to play back and review digital media. RV?s professional, high-performance toolset is built on an open, extensible architecture allowing users to adapt the software to their own pipelines and styles of working. Highlights of the new RV 3.12 release include:
?Presentation mode
Display a full screen view on one monitor while controlling playback from another.
Stereo 3D TV support for HDMI 1.4a and DVI
Use cost-effective stereo TVs for stereo reviews with RV.
?Javascript Web Integration
Integrate RV with web based tools using Javascript
?ARRI Alexa ARRIRAW file support
High dynamic range, full color support for ALEXA is now integrated into RV?s tools for playback, dailies and transcoding.
?RED RAW file support
V3.12 includes the first level of RED file support integration.
?ACES files and color spaces
RV supports the Academy Color Encoding Specification (IIF ACES) including the ability to write .aces files from RVIO.
?CDL support
Color Decision List values can now be specified in an RV session file.
?Next-level integration
Nuke and Shotgun integration both include a host of updates and refinements.
Visit the Tweak Software website
Read about RV's use on Transformers: Dark of the Moon
Tags: 3D TV, ARRI, image viewer, playback, RAW, RED, RV 3.12, stereo, Tweak Software