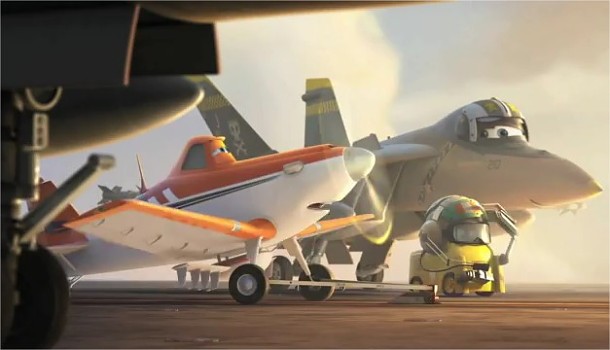 The Planes trailer has been taken off YouTube. While we wait for it to reappear, why not enjoy this still image? Alternatively, head over to The Film Stage while it's still online there.
Disney has posted the first trailer for Planes, its I-can't-believe-it's-not-Pixar sequel to Cars.
The movie, which boasts the tagline 'From above the world of Cars', appears – visually, at least – to be a straight transplant of Lightning McQueen et al from four wheels to two wings.
The straight-to-DVD affair is being produced by straight-to-DVD specialist DisneyToon Studios, and should see release in 2013.
On a genuine Pixar note, a 30-second teaser for the studio's new short, La Luna, has just been posted on YouTube. Personally, I'd be freaked out if I saw a moon that big, but the kid seems entirely unfazed.
Update: the Planes trailer now seems to have been marked as Private, so it looks like it may have got out where it wasn't supposed to. We'll update if it comes back up anywhere.
Updated again (15 June): although the trailer still isn't up on YouTube, you can see it at The Film Stage. Like many of the film blogs, they give the entire project a resounding thumbs down. Thanks to Jason for the tip.
Tags: Cars, Disney, DisneyToon Studios, Pixar, Planes, sequel, straight-to-DVD, teaser, trailer