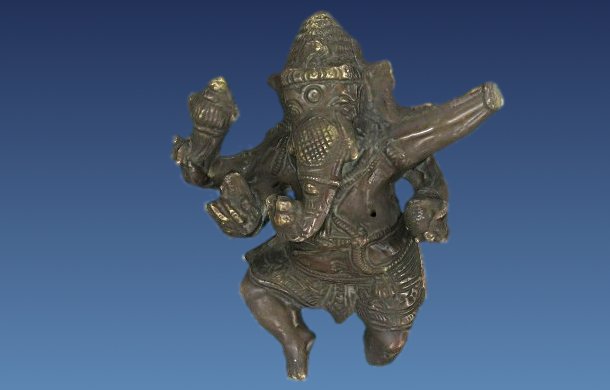 Creative Dimension Software has just released a new version of 3DSOM Pro, its professional image-based modelling package.
Version 3 fixes two issues common with packages of this type: the inability to model concave surfaces, and the inability to create models from photographs not taken against a pre-printed reference background – the latter of which made it impossible to model objects above a certain size.
3DSOM Pro 3 is currently available at a launch offer rate of $995, reduced from the normal price of $1,499.
PRESS RELEASE (Excerpts)
Creative Dimension Software Ltd are pleased to announce the release of 3DSOM Pro v3, the professional tool for creating and presenting 3D models from photographs. A much enhanced toolset allows users to build models of a wide range of objects including including concave objects such as vases, bowls as well as organic and complex objects that are traditionally hard to model.
Another key new feature is the ability to model objects taken without the 3DSOM Pro calibration mat – a printed A4 sheet placed under the target object to help automate modeling. The calibration approach works very well for small objects but can prove difficult for large objects such as a car. An alternative interface is now provided allowing users to place "pins" or markers in the photographs to allow the software to recover camera parameters and build a 3D model.
3DSOM Pro v3 now includes state-of-the-art computer vision techniques to allow a 3D "point cloud" to be automatically created directly from pairs of photographs. The resulting points improve model accuracy building on the core "silhouette" based 3d engine from previous versions.
As well as some helpful tools to improve the workflow the new release includes an upgraded version of 3DSOM Pro's Flash powered 3D web viewer. This version allows higher quality models to be published (over 30,000 triangles and 16Mp textures) and viewed in a web page with a "Full Screen" display option. A measure tool is also included allowing interactive measurement of the distance between any two points on the object.
The 3DSOM Pro system takes a number of photographs of a real object taken from different angles. The images are loaded into the software and 3DSOM Pro then semi-automatically constructs a high quality texture mapped model. The software is being used by museums to present 3D online galleries as well as for product visualisation, retail design, medical research and teaching and other graphics and CAD applications.
As well as the new Flash 3D web format the software can export models in industry standard 3D formats and also a powerful Java based web 3D presentation solution.
Read a full list of new features
Tags: 3DSOM Pro, 3DSOM Pro 3, Creative Dimension Software, image-based modelling. concave, reference grid