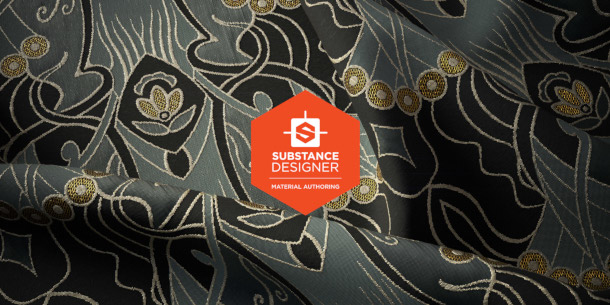 Allegorithmic has released the latest version of Substance Designer, its material authoring software, rolling out Substance Engine 7, the next generation of the software's core architecture.
The update makes it possible for users to "go beyond texture maps", embedding numerical information like metadata and scale values inside Substance materials.
In addition, the Python API gets a major update geared towards creating external plugins; and there are new Height Extrude and Atlas Splitter filters, plus updates to the Flood Fill and Tri Planar filters.
As usual, Allegorithmic refers to the update as either the 'Spring 2019' release or Substance Designer 2019.1, but we've opted for the version number here.
Update to the core Substance Engine architecture lets users 'go beyond PBR texture maps'
Under the hood, the biggest change in Substance Designer 2019.1 is Substance Engine 7, the latest version of the software's core architecture.
According to Allegorithmic, it enables users to "go beyond the texture maps of the PBR format", making it possible for nodes in the scene graph to represent not just images, but numerical values.
Suggested use cases include embedding non-visual metadata – for example, the elasticity of a fabric – inside a Substance material, or setting real-world scale values.
Allegorithmic's blog post announcing the release has more information on the new workflows this enables.
Now 'industry-standard' tools for authoring Python plugins
In addition, the new Python API rolled out in Substance Designer 2018.2 and Substance Designer 2018.3 has been further updated, with a focus on creating external plugins as well as modifying existing features.
One key change is the integration of the VFX-industry-standard Qt library, making it possible to create GUIs for custom tools directly inside Substance Designer.
Substance Designer also now instantiates plugins when the application starts, making it possible to create persistent external content; and gains a dedicated plugin manager.
Allegorithmic describes the functionality as "now up to industry standard" for creating plugins.

New Atlas Splitter and Height Extrude filters, plus updates to Flood Fill and triplanar projection
There are also a number of new filters, including Atlas Splitter (above), which enables users to isolate individual shape elements from 3D scans, and Height Extrude, for rendering 3D depth from height maps.
The Flood Fill system introduced in Substance Designer 2017.2 has also been updated, including the option to use images as fills, and to fill the elements of a pattern individually.
The Tri Planar node gets separate inputs for the X, Y and Z projections, and a random offset option.
GPU texture baking powered by Nvidia's OptiX ray tracing library
Performance improvements include the integration of Nvidia's OptiX technology – presumably the GPU ray tracing engine itself, not its more familiar denoising component – for texture baking.
Allegorithmic describes baking AO, bent normal and thickness maps on the GPU as being "at least 5x faster than CPU ray tracing".
Elsewhere in the software, the OBJ loader is also now "at least 1.5x faster".
There is also the usual list of smaller features and bugfixes, which you can find via the links below.
Pricing and availability
Substance Designer 2019.1 is available for Windows 7+, CentOS 6.6 or Ubuntu 16.04 and Mac OS X 10.11+.
New Indie licences of the software, intended for artists and studios earning less than $100,000 per year, cost $149; Pro licences cost $990. Both prices include 12 months' maintenance.
Subscriptions cost $19.90/month for Indie users; $99.90/month for Pro users.

Read an overview of the new features in Substance Designer 2019.1 on Allegorithmic's blog
Read a full list of new features in Substance Designer 2019.1 in the online release notes
Tags: Allegorithmic, Atlas Splitter, Flood Fill, Height Extrude, metadata, new features, NVIDIA, OptiX, price, Python, Python API, Python plugin, Qt, ray tracing, Spring 2019, Substance Designer, Substance Designer 2019.1, Substance Engine, Substance Engine 7, system requirements, texture baking, triplanar projection