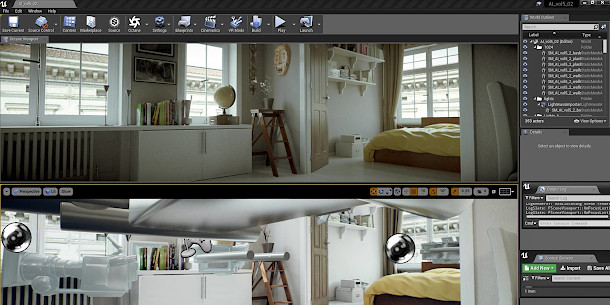 Otoy and Epic Games have announced a new integration between OctaneRender 2019, the next-but-one major update to Otoy's GPU renderer, and Unreal Engine 4. The plugin is being previewed at Siggraph 2018.
According to Otoy, the integration will offer "rapid automatic conversion of Unreal Engine scenes and materials into OctaneRender and full integration of OctaneRender features shipping with Octane 2019.1".
The plugin is Otoy's third major OctaneRender announcement from the show, alongside the first release candidate for OctaneRender 4.0 and a preview of new features due in OctaneRender 2018.1.
Bake light fields on the GPU inside UE4, or drag and drop scenes in ORBX format
As with OctaneRender for Unity, released last year, one obvious use case for OctaneRender in Unreal Engine is light field baking on the GPU.
While OctaneRender is a pretty good option for rendering offline content, particularly with the recent integration of Otoy's Brigade path tracing engine in version 4.0, Unreal Engine is already strong in that area, real-time visual effects and visualisation having been a major focus for Epic over the past year.
However, Otoy is also pitching workflow benefits in the shape of its ORBX scene format, supported in its existing plugins for DCC software, including 3ds Max, Blender, Cinema 4D, Houdini, Maya and Modo.
According to the firm, the integration will enable artists to "drag and drop scenes from their favorite authoring tools and mix and match them with Unreal Engine content in a fully responsive Live Viewport".
The integration will also give developers access to Otoy's RNDR SDK, which will "serve as the portal for OTOY's end-to-end holographic mixed reality pipeline".
Pricing and availability
OctaneRender for Unreal Engine is due for release in "the first half of 2019". Otoy is launching a private beta later this month, with a public beta scheduled to follow in Q4 2018.
The integration will be included as part of Otoy's upcoming $20/month subscription package, due to roll out when OctaneRender 4.0 finally ships, which will enable users to render on up to 20 GPUs.
Otoy hasn't said whether it will be included in the free package, which will support rendering on two GPUs, and include some of the OctaneRender integration plugins.
Read Otoy's official announcement for OctaneRender 2019 for Unreal Engine on its Facebook feed
Tags: Epic Games, Featured Articles, Game Engine, GPU renderer, integration, light field baking, lightmap baking, OctaneRender, OctaneRender 2018, OctaneRender 2019, OctaneRender 2019 for Unreal Engine, OctaneRender 4.0, offline content, ORBX, Otoy, plugin, price, release date, RNDR, SDK, Siggraph 2018, UE4, Unreal Engine, visual effects