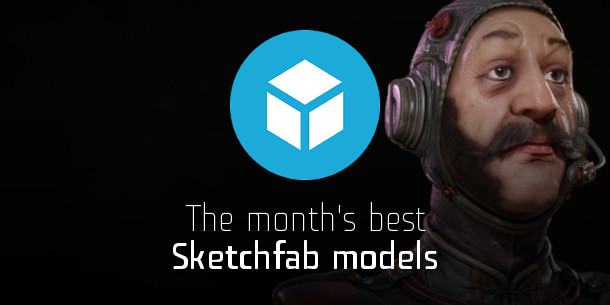 Sketchfab provides a simple way for anyone to publish and share their 3D models online. To celebrate the best in real-time 3D art, we asked the Sketchfab team to pick the 10 greatest models on the site this month.
To interact with a model in 3D, click the large Play icon in the centre of the frame.
To find out more about a model, click the small Sketchfab logo on the bottom left of the frame.
LT. Reginald by Matthew Kean
38.7k triangles
A personal project by Firaxis Games lead character artist Matthew Kean.
See wireframes, turntables and texture breakdowns in Matthew's ArtStation Gallery.
Scout Ship by Scott Robinson
38.6k triangles
Vintage Vinyl Records Store by se7en23 (Gareth West)
26.8k triangles
Characters for Goodgame Empire: Millennium Wars by Roumen Filipov
Around 6.5k triangles per character
Character from Goodgame Studios' mobile title Empire: Millennium Wars.
"American 01" – Bugbear's Wreckfest by Olli Teittinen
125.7k triangles (after conversion)
Model created for Bugbear Entertainment's racing game Wreckfest.
Catrina by Perrine Lozinguez
61.7k triangles (after conversion)
Inspired by an image by Maria Dimova. See breakdown images in Perrine's ArtStation gallery.
The Seasons Of The Soul by Ali Rahimi Shahmirzadi
273.9k triangles
Stitch Robot by Sara Tamarit Bonafont
215.1k triangles (after conversion)
Based on a concept by Jake Parker after the Disney character.
Nexus City Project by Sarun.Sungrod
373.3k triangles (after conversion)
Dangerous Beauty – Diorama by Matthijs de Rijk
19.7k triangles (after conversion)
Free to download and used in commercial projects under a CC Attribution 4.0 licence.

Want to vote for a model of the month? Just Like your favourites on the Sketchfab site, or upload your own!
Tags: best 3D models, best real-time models, download, Firaxis, free, Matthew Kean, models of the month, November 2017, real time, Sketchfab