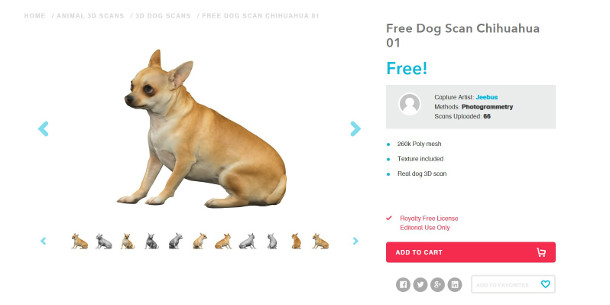 Online scan data marketplace SnapTank currently has 17 of its 3D scans of real-world objects – mainly dogs and household objects – available to download for free.
The scans are provided in OBJ format, complete with textures. The majority are raw scan data, but some have been decimated to reduce the poly count and/or have been cleaned up manually.
Licensing for the scans varies: some are available for commercial use, indluding in games, others only for non-commercial projects. You can find more information on the licence types here.
An online marketplace for commercial 3D scan data
SnapTank itself is a relatively new site, so if you haven't visited it before, it's well worth a look.
The main draw is the set of commercial full-body scans of people, both clothed and unclothed, and covering a range of poses and body type; but there are also scans of buildings, environment objects and props.
Each scan listing comes with a good range of supporting information, and searches can be filtered by file format, poly count, topology (tris or quads, cleaned or uncleaned) and the texture maps provided.
The SnapTank blog also has some good articles comparing different methods of generating 3D scans, and summarising the intellectual rights issues relating to selling scans of man-made objects.

Download free 3D scans from SnapTank
Tags: 3D scan, animal, Architecture, building, character, commercial use, dog, download, environment, free, OBJ, person, Photogrammetry, prop, scan data, SnapTank