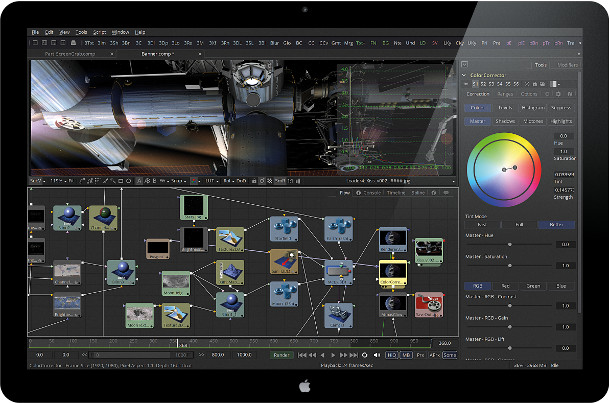 Blackmagic Design has released Fusion 8.1, the latest update to its compositing software, adding Fusion Connect for Avid, its interoperability plugin for Media Composer, to the free and Mac versions of Fusion.
The update also adds compatibility with the latest Avid Artist DNxIO video interface.
A live link between Fusion and Media Composer
Previously only available in the $995 Fusion Studio, and then only on Windows, Fusion Connect for Avid lets editors round trip clips, sequences or stacks of layers between Media Composer and Fusion.
Once applied to clips in the Media Composer timeline, the plugin automatically creates a Fusion composition with a node tree that is linked to the correct Media Composer sources.
It supports versioning, and can process clips in 16-bit float or 32-bit float depth.
The plugin is now available to users of both Fusion and Fusion Studio on Windows and Mac OS X, using Media Composer with the Avid Artist DNxIO interface.
Pricing and availability
Fusion 8.1 and Fusion 8.1 Studio are available for Windows and Mac OS X. The update is free to current users.
New licences of Fusion 8.1 Studio cost $995; Fusion 8.1 is free, but caps output resolution at Ultra HD, and lacks the Studio edition's advanced optical flow and stereo compositing toolsets.
Read more about Fusion 8.1 in Blackmagic Design's official news release
Tags: AVX, Blackmagic Design, Fusion, Fusion 8.1, Fusion Connect for Avid, Fusion Studio, Fusion Studio 8.1, live link, Mac, Media Composer, new features, OS X, plugin, price, round trip