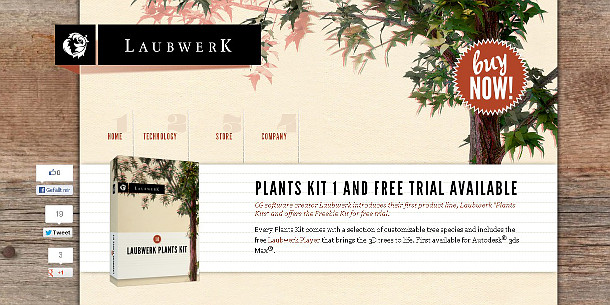 German start-up Laubwerk has launched Plants Kit 1: Temperate Deciduous Trees, a new set of procedural plant models for 3ds Max that it claims offers highly detailed renders without "speed-crippling memory use".
Founding director Philip Paar commented: "Where other vendors force you to make the choice between high-quality botanical content or fast response when editing your scenes, we just deliver both.
"Whatever quality or interactivity level you require, with Laubwerk, you just flip the switch."
Ten species, 36 variants
The pack consists of 10 tree species native to Europe and North America. Each has three ages, three variants and four seasons, for a total of 36 variants for each.
Each comes with preset materials for 3ds Max's scanline renderer, mental ray and V-Ray.
The models can be viewed inside Max with the free Laubwerk Player bundled with the assets. It provides a low-detail proxy representation of the plant in the viewport, and enables the user to set up levels of detail.
Plants Kit 1: Temperate Deciduous Trees is available for 3ds Max 2010 and above, price €178 (around $240).
If you want to try before you buy, there's a free 'Plants Kit Freebie' evaluation version, which contains two species (a field maple and a Frangipani), again with 36 variant models for each.
Read more about Plants Kit 1 on Laubwerk's website
Tags: 3ds max, free, Laubwerk, model, plant, Plants Kit 1, procedural, Temperate Deciduous Trees, vegetation